Latest Release of SYSPRO ERP Featured in Booth #133260 at Chicago International Manufacturing Technology Show, September 10 - 15
SYSPRO, a global provider of industry-built Enterprise Resource Planning (ERP) software, has today announced that it will demonstrate the company's latest industry-leading ERP software at this week's International Manufacturing Technology Show at Chicago's McCormick Place, Booth #133260 (East Building, Level 3).

The latest release of SYSPRO is a cloud-first ERP solution designed to add significant value, flexibility, control and operations visibility to manufacturers and distributors. With the integration of a number of powerful new features, including a web-based version of SYSPRO, social media as a collaboration tool and a host of the hottest new IT capabilities, including Artificial Intelligence - the benefits of SYSPRO to manufacturers and distributors are virtually infinite.
"As part of SYSPRO's promise to simplify success and future proof businesses, we are continually evolving our product to optimize the management and control of organizations across the entire supply chain," said Joey Benadretti, President, SYSPRO USA. "With IoT and Artificial Intelligence, factories and supply chains will be able to extend beyond traditional 'stages,' creating conduits of information that foster transparency and collaboration throughout its ecosystem," Benadretti said.
SYSPRO, recently named one of CIO Review's "20 Most Promising ERP Solution Providers - 2018," has already achieved a number of awards this year for excellence in technology, customer care, and leadership. In addition, principal ERP analysts have ranked the latest release of SYSPRO in the top amongst its competitors, noting SYSPRO's excellence in applying cutting-edge technology to enhance usability and overall functionality.
"In the coming years, future-thinking businesses will embrace change and transform themselves through connectivity, data, automation and an increasingly sophisticated workforce. A continuous, real-time flow of data will provide information and actionable insights that make production and business processes increasingly visible, predictable and controllable," Benadretti said.
SYSPRO ERP software, integrated with the latest innovative technologies, paves the way to digitizing business for customers by streamlining the supply chain, providing greater control and visibility, and simplifying the experience. Visit SYSPRO at IMTS 2018, booth #133260, to learn how SYSPRO provides insight across your entire business.
About SYSPRO
SYSPRO is a global, independent provider of industry-built ERP software designed to simplify business complexity for manufacturers and distributors. Focused on delivering optimized performance and complete business visibility, the SYSPRO solution is highly scalable, and can be deployed on-premise, in the cloud, or accessed via a mobile device. SYSPRO's strengths lie in a simplified approach to technology, expertise in a range of industries, and a commitment to future-proofing customer and partner success.
SYSPRO has more than 15,000 licensed companies in over 60 countries across six continents.
Featured Product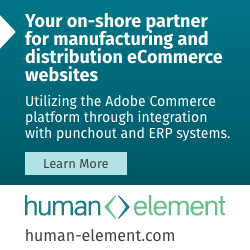 With Human Element, you will build a strategic partnership with experienced on-shore strategists and developers who understand the pain points unique to manufacturers and distributors. Using Agile methodologies and proven eCommerce website development strategies, our team positions clients for success.