Globally leading manufacturers will present a wide range of products / Suitability for extended wavelengths and integration of liquid lenses in vogue
Florian Niethammer, Project Manager for VISION at Messe Stuttgart, is eagerly looking forward to the new exhibits in the area of objectives: "This area of machine vision is unjustly treated as a poor relation. Objectives will therefore purposely be one of the key topics at VISION, the leading trade fair for machine vision. We are looking forward to the trade fair presentations by internationally leading objective manufacturers who will show us what technologies they want to use to cope with the increasing requirements relating to optical and mechanical properties."

"There is a clear trend towards larger sensors, smaller pixel sizes and higher resolutions in industrial cameras. This trend is also having direct impacts on the objectives used here," said Nina Kürten, Assistant Manager CCTV and Machine Vision at Fujifilm Optical Devices Europe, describing a current development. "Resistance to impacts and vibrations is also becoming increasingly more important for objectives since more and more applications are mobile," added Kürten. As one of many examples of these application areas, she mentioned robot-controlled 3D cameras or scanners which are used, for example, to measure body parts in the automotive industry. Dr. Boris Lange, Manager Imaging Europe at Edmund Optics, confirmed this development: "We are seeing enormous interest in our objective series for harsh environmental conditions, either for use in robotics or in autonomous driving or in 3D metrology."
In order to maximise the robustness of the objectives, a large number of manufacturers have revamped the designs of their products. For example, Fujifilm is reacting to the increasing demands with its own "Anti Shock & Vibration" technology in which the lens elements inside the objective are fixed elastically. "Unlike the adhesive used in the majority of cases, this fixing keeps the lens elements stable even during temperature fluctuations and high humidity," said Nina Kürten explaining the advantages. "The objectives therefore provide good image quality even during applications with vibrations or impacts and minimise the displacement of the optical axis."
Increasingly more special objective developments
According to Andreas Platz from Machine Vision Product Management at Stil Optics, the development of objectives is also directly affected by extended wavelength ranges, larger sensors and higher resolutions. Platz has also identified another technical current: "The market is aiming for increasingly more special objective developments. Individual optical and mechanical designs for customer-specific applications are gaining ground in Europe. They also enable medium-sized companies to survive against Asian competitors."
In the opinion of Andreas Platz, the main services which an objective manufacturer must now offer its customers include individual advice, flexible application areas and customer-specific solutions - also for small series. During VISION 2018 Sill Optics will present telecentric objectives with coaxial light injection and a liquid lens along with telecentric objectives for the SWIR band. These objectives are opening up new opportunities in machine vision with InGaAs sensors.
Fast focusing with liquid lenses
The speeds in automated quality inspections are increasing continuously. The batch sizes of the products to be tested also differ more and more. This often leads to frequently changing working distances for the utilised machine vision systems. According to Dr. Boris Lange, this trend is also having an impact on the development of objectives: "The integration of liquid lenses in objectives allows fast focusing on changing work distances. This exciting technology can perform tasks which hitherto were not possible for machine vision or only with extremely high costs." Visitors to VISION 2018 will be able to see, for example, at Edmund Optics, Optotune and Sill Optics how this technology works and what advantages it can offer users.
About VISION
VISION, the leading world trade fair for machine vision, will be held this year in Stuttgart from 6 to 8 November 2018. Staged every two years, the trade fair covers the entire spectrum of machine vision technology. In addition to first-class exhibitors, VISION has always been characterised by its strong international character and a varied accompanying programme: one permanent fixture at the trade fair will also be held again this year, i.e. the "Industrial VISION Days", the world's largest talk forum for machine vision. Other highlights include the "Integration Area", the special show on "International Machine Vision Standards" under the aegis of the EMVA, and the IPC4 Vision stand showcasing industrial PCs (IPCs).
Featured Product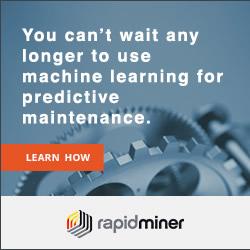 RapidMiner offers a data science platform that's built to enable people of all skill levels across the enterprise to quickly build and operate AI solutions to drive hard ROI for their organizations. Many data science tools are built to create accurate models, but cannot help manage the models into production, where they can have an impact. The platform covers the full lifecycle of the AI production process from data exploration and data prep to model building, model deployment and model operations. RapidMiner can help with a wealth of manufacturing use cases, like designing smart products, running smart factories, forecasting demand, ensuring quality, reducing production downtime, and managing supply chain risk.