Publish your 3D models to the Web! Discover how Extensible 3D (X3D) Graphics, the ISO-IEC International Standard for 3D Graphics on the Web, can help you share your 3D between any source and delivery platform. This robust, stable, time-tested ISO standard is being highlighted August 12-16 at SIGGRAPH 2018 in Vancouver, Canada.
The Web3D Consortium (http://www.web3d.org) is showcasing the latest enterprise solutions for open interactive and Immersive 3D solutions from August 12-16 at the SIGGRAPH 2018 conference in Vancouver, Canada. X3D Graphics content can be used in multiple application domains including medical, entertainment, education, 3D printing & scanning, design, and geographical information systems. Web3D Consortium open standards solutions are royalty free, built on value of data in any domain that can be delivered and visualized in 3D on any platform. Attend our discussion sessions (http://www.web3d.org/event/siggraph-2018) to learn now using open standards solutions can increase your product's market value and presence. Join us as we showcase X3D as the backbone for new dimensions of 3D!

Web3D Consortium members have achieved another successful year in many ways. Our new partnership with HL7 (http://www.hl7.org) is aimed at incorporating 3D Presentations into Electronic Health Record (EHR) applications, further improving X3D as the backbone for 3D informatics and building out new dimensions on the World Wide Web. Join us at our SIGGRAPH Birds of the Feather sessions as we discuss improvements to add full Web integration, Physically Based Rendering, and Virtual, Augmented and Mixed Reality (VR/AR/MAR) in the Medical, Geospatial, Design, Printing and Scanning domains.
The open Extensible 3D (X3D) Graphics Standard (http://www.web3d.org/x3d/what-x3d) provides a robust and durable medium for the implementation of multimedia 3D systems on the Web. Web data-integration capabilities and a rich set of componentized features for X3D are steadily expanding. Robust, cross-platform web applications again prove that X3D is a compelling, interoperable technology ranging from mobile devices to interactive networked virtual environments to large-scale CAVE displays.
X3D is the leading royalty-free standard and run-time architecture to communicate 3D scenes on the Web. The non-profit Web3D Consortium is open to all: companies, universities, agencies and individuals are welcome to join (http://www.web3d.org/join) the Web3D Consortium and contribute to the standard. We look forward to your participation. Meet up at SIGGRAPH 2018 for this great opportunity to learn more and get involved! There has never been a better time to join the Web3D Consortium and build 3D into the future Web.
About Us
The Web3D Consortium is a member-driven and funded open consortium involved in many technical initiatives across the 3D value chain. The Consortium is committed to the creation and deployment of open, royalty-free standards that enable the communication of real-time 3D graphics.
Featured Product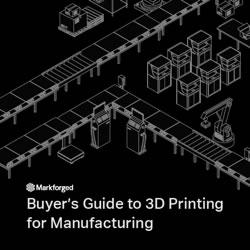 3D printing has become a powerful force in today's manufacturing industry from prototyping to tooling and fixtures to custom, end-use parts. Many businesses struggle to find the right solutions to fit their needs and provide ROI. Selecting the right platform to prevent manufacturing roadblocks is vital to optimizing your manufacturing line productivity. Download the all new buyer's guide to help you evaluate the benefits of 3D printing and dispel misconceptions, understand the pros/cons of various 3D printing processes and materials, and assess the key considerations in selecting a 3D printer.