NanoGripTech, an RIDC tenant, signed a new five-year lease for expanded space at the Lawrenceville Technology Center in Pittsburgh.
Pittsburgh, PA - June 20, 2018 - Regional Industrial Development Corporation of Southwestern Pennsylvania (RIDC) announced that nanoGriptech has signed a new five-year lease for expanded space at the Lawrenceville Technology Center (LTC). NanoGriptech will occupy 6,300 square feet of the Chocolate Factory, an LTC building named in honor of its chocolate factory roots.

"We are growing in terms of revenue, and we want to set up a high-speed coating line, and bring in additional equipment, to demonstrate to our customers that we can meet high volume demands. This expansion allows us to scale up our manufacturing capabilities," said nanoGriptech CEO Nicholas Kuhn. "It also allows us to consolidate. We are currently spread out - our manufacturing work space is separate from our offices, which isn't ideal, but now everything will be in the same space."
Founded in 2012, nanoGriptech is the commercial manufacturer of Setex™ - gecko-inspired micro-fibrillar polymer dry adhesive technology that is repeatable, paper-thin, conformal and residue-free. The adhesive can be used in a wide range of product applications and solutions, including manufacturing, automotive, mounting, medical, sporting goods, and skin adhering consumer products.
"RIDC has been a great partner and very supportive of our growth," Kuhn added. "They've helped get us to this point, providing us with temporary locations until we were ready to move into a more permanent space. And we take comfort in knowing that as we continue to grow, we have the option of expanding into other RIDC facilities."
NanoGriptech has had two prior locations at the Chocolate Factory and relocated to larger space within the building as they grew. The company has also used temporary space at other RIDC properties.
"Companies like nanoGriptech are driving economic growth in the region," said RIDC President Donald F. Smith, Jr. "We believe that working with our tenants, more like partners than landlords, is integral to nurturing their growth as they work towards commercializing their tech. Their success is a win for us and the region."
About RIDC
The mission of the Regional Industrial Development Corporation of Southwestern Pennsylvania is to catalyze and support economic growth and high-quality job creation through real estate development and finance of projects that advance the public interest. A not-for-profit entity, RIDC owns over 2,800 acres of land in 11 industrial parks and manages over 50 buildings. More information is available at www.ridc.org.
###
Featured Product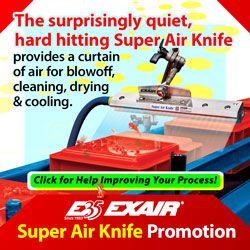 EXAIR Cabinet Cooler® Systems are a low cost, easy to install, maintenance free way to cool and purge electronic control panels. EXAIR Cabinet Coolers incorporate a vortex tube that produces cold air from ordinary compressed air - with no moving parts. The compact Cabinet Cooler can be installed in minutes through a standard electrical knockout. NEMA 12, 4, and 4X (IP54 and IP66) Cabinet Coolers that match the NEMA rating of the enclosure are available in many cooling capacities for large and small control panels. NEMA 12 Cabinet Coolers are ideal for general industrial environments where no liquids or corrosives are present. NEMA 4 Cabinet Coolers incorporate a low pressure relief valve for both the vortex tube and cabinet air exhaust. This valve closes and seals when the cooler is not operating to maintain the integrity of a NEMA 4 enclosure. NEMA 4X Cabinet Coolers offer the same protection as NEMA 4 but are constructed of stainless steel for food service and corrosive environments.