Customers can now receive real-time updates as they design and modify conveyor systems when using 3D Preview in DTools, Dorners online conveyor configurator.
HARTLAND, Wis., (May 16, 2018) — Customers can now receive real-time updates as they design and modify conveyor systems when using 3D Preview in DTools, Dorners online conveyor configurator.

3D Preview, a fully interactive, live experience for customers that gives them more information than ever before, is now available for Dorners 2200 Series Precision Move Pallet System. When building their conveyors in DTools, a 3D CAD model is simultaneously developed to match their designs. As the conveyor is modified, the configuration updates to correspond with those changes - giving customers live updates and rotatable 3D views of their conveyor systems prior to submitting them for quotation.
The 2200 Series Precision Move Pallet System conveyor is designed to increase efficiency and reduce downtime in various assembly automation processes. The platform can carry pallet loads up to 70 pounds around 90° or 180° corners, and pallets can be accumulated in a corner; an advantage not typically seen in most corner systems. It also features a tight transfer 180° corner that creates a loop with only 135mm between main run conveyors. This cost-effective option uses the Dorner Pin Tracking system, which eliminates the need for other transfer devices while maintaining pallet orientation through the loop.
3D Preview will be available on Dorners other conveyor product lines in the coming months. For more information on DTools 3D Preview, visit: https://tools.dornerconveyors.com. For information on Dorners full line of sanitary and industrial conveyors, visit www.dornerconveyors.com.
Connect with Dorner on Facebook at www.facebook.com/dornerconveyors
Follow Dorner on Twitter at www.twitter.com/dornerconveyors
Subscribe to Dorner on YouTube at https://www.youtube.com/user/DornerConveyors
Follow Dorner on LinkedIn at www.linkedin.com/company/dorner-mfg-corp
###
Hartland, Wisconsin-based Dorner Mfg. Corp. is a world leader in the design, manufacture and distribution of high-quality conveyors and related equipment. Since 1966, companies from around the world have turned to Dorner conveyors for greatly improved efficiency and productivity. For more information about products or company news, visit Dorners Web site at www.dornerconveyors.com or call 1-800-397-8664.
Featured Product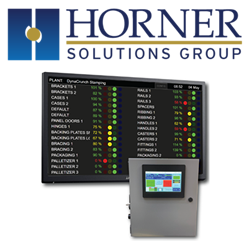 Horner Solutions Group offers a pre-programmed solution that is fast and easy to implement. No development on the user end, just a simple setup on the touchscreen and you can start monitoring and collecting data in minutes. With the ever-growing need for production data in the industry, we wanted to help bridge the gap for many production companies to be able to start collecting accurate and functional OEE (Overall Equipment Effectiveness) data within just a few minutes of setup, as opposed to the weeks/months many companies spend developing their own solution from scratch. For any customers that may have a need outside of the typical product mold, we also offer engineering services for custom hardware and software solutions of various types.