Andrew Sliwa of Custom Prototypes and Ed Graham of ProtoCam selected as winners of the AMUG Technical Competition by a panel of industry veterans.
The Additive Manufacturing Users Group (AMUG) today announced the winners of its annual Technical Competition, which was held during the groups 30th annual conference in St. Louis, Missouri. A panel of industry veterans selected Andrew Sliwa of Custom Prototypes and Ed Graham of ProtoCam as winners of the competition.

Andrew Sliwas winning entry in the Advanced Finishing category was a stunning recreation of a Praetorian Guard helmet that, according to legend, Cleopatra gave to Mark Antony. Lost to time, Sliwas team built on research to create a digital model that fueled metal and polymer additive manufacturing processes. The metal pieces were painstakingly polished and plated in copper, nickel and gold. The jewels, which were printed in clear photopolymer, were dyed and painted to present the grains of precious stones. Showing prowess in additive manufacturing, as well as finishing, Custom Prototypes printed each individual strand of the helmets crest and then dyed, plasticized and coated the plume before shaping it with hot air.
Mark Barfoot, AMUG past president and overseer of the Technical Competition, said, "The craftsmanship and attention to detail for all of the entries was outstanding. In the end, the judges named Andrews entry a winner because of the mix of processes, range of finishing methods and creativity in making the helmets crest."
Ed Grahams winning entry in the Advanced Concepts category was titled "Old world engineering gets and additive makeover." That makeover solved a decade-old problem for Langhorne Carpets, which could not acquire replacements for the carpet loom drive assembly from circa-1930s machines. Grahams team applied DFAM (design for additive manufacturing) practices to reduce weight and replicate 1,000 pilot holes while creating a modular assembly that allows replacement of individual components. The five-piece assemblies were then printed with HPs Multi Jet Fusion and put into service.
Barfoot said, "The entries in the Advanced Concepts category addressed current, real-world challenges by leveraging additive manufacturing capabilities. Eds entry rose above all others because of the reverse engineering and redesign that improved on the 1930s design in ways unique to additive manufacturing."
For Advanced Concepts, Brain Douglass of DI Labs took second place with a creative gasket installation tool. For third place, there was a tie between Austin Feathers of Barber-Nichols Inc. and Madeline Frank of UW-Milwaukee Prototyping Center. Feathers entry used a printed core structure for compression molding of a composite fan blade. Franks entry addressed a common problem with her one-piece-construction router chip vacuum.
In the Advanced Finishing category, Dhemerae Ford of LaGuardia Studio (NYU IT Research) was awarded second place for "Thor: Goddess of Thunder Helmet." Chris Keidl of Midwest Composite Technologies took third place with a scale model of the Simplicity Lawn Tractor.
As winners of the Technical Competition, which recognizes excellence in additive manufacturing applications and skill in finishing additive manufacturing parts, Sliwa and Graham each received complimentary admission to the 2019 AMUG Conference and a commemorative award.
Judges for the Advanced Finishing category were Todd Reece, Jason Lopes, Bill Braun, Kim Killoran and Graham Tromans. Advanced Concepts judges included Kevin Zaras, Peter Liacouras, Ted Anderson, Gideon Levy and Jim Harrison.
ABOUT ADDITIVE MANUFACTURING USERS GROUP (AMUG)
AMUG is an organization that educates and advances the uses and applications of additive manufacturing technologies. AMUG members include those with industrial additive manufacturing/3D printing technologies used for professional purposes from companies such as Stratasys, DSM Additive Manufacturing, SLM Solutions, GE Additive, ExOne, Renishaw, HP Inc., 3D Systems, Carbon, EOS, Formlabs, Desktop Metal and Additive Industries. AMUG meets annually to provide education and training through technical presentations on processes and new technologies. This information addresses operation of additive manufacturing equipment and the applications that use the parts they make. Online at http://www.amug.com.
Featured Product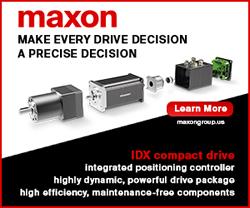 maxon motor launches new high-speed motors that are configurable online. The new ECX brushless motors are quiet and feature very high efficiency. The ECX motors are available with diameters of 8, 16 and 19 mm achieving speeds of up to 120,000 rpm. They run very smoothly and are highly efficient. With maxon motor's online configurator, it is easy to put together a customized DC motor to include gearhead, encoder and controller. The customized motors are ready to ship in 11 days!