Aventics now offers a new product for applications where the basic variants just won't do the trick, but high-performance cylinders are too powerful. The new RTC-SB slide bearing version rounds off the pneumatics specialist's RTC range of rodless cylinders.
Lexington, Kentucky, May 1, 2018 - As with the other double-acting rodless cylinders from Aventics, at the heart of the RTC-SB (slide bearing) is its oval piston shape. In relation to its size, it offers a very high load capacity. As a result, engineers can draft even more compact machine designs. Equipped with a lubrication-free slide bearing, the cylinder is maintenance-free and resistant to water, chemicals and dirt. The slide play is optimally adjusted at the factory.

The new RTC-SB rodless cylinder is designed for a maximum speed of 6.5 m/s (21.3 ft./s). The maximum stroke is around 6,000mm (21.6 ft.). A wear-free magnetically attached exterior strip, scraper and sealing strip protect the cylinder from dust and dirt. Adjustable pneumatic cushioning extends the service life and ensures precise and gentle operation. The RTC precision cushioning can achieve what Aventics describes as "Ideal Cushioning" with the proper tools and adjustment. Form-fit connection technology from Aventics with standardized mechanical interfaces simplifies machine design and speeds up assembly significantly since no re-adjustments are necessary.
The RTC cylinder completes the Aventics range of double-acting rodless cylinders. The new RTC-SB version with bore sizes ranging from 25 to 40 mm closes the previous gap between the basic version (RTC-BV) and the versions designed for higher loads, the RTC-CG (compact guide) and RTC-HD (heavy duty). RTC cylinders can be easily configured online with a part number assigned, CAD drawings and other documentation available in minutes. More information and links to tools for the RTC are available at: www.aventics.com/us/RTC
Featured Product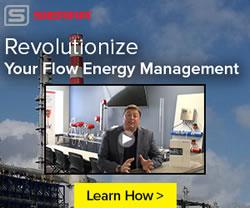 Sierra Instruments announces the launch of its new flow energy solution for managing and optimizing flow measurement for industrial facilities of all sizes. It features Sierra's QuadraTherm 640i/780i thermal flow meters, their InnovaMass 240i/241i vortex flow meters, and their new InnovaSonic 207i ultrasonic flow meter. Designed, built, and calibrated in the USA by Sierra, the Big-3TM share the same revolutionary Raptor firmware and many of the same software apps. They are a complete flow energy solution for flows like compressed air, natural gas, steam, and hot and chilled water. Together, they set a new standard in ease-of-purchase, performance, accuracy, reliability, and ease of use.