A new line of air and water-cooled chillers brings precision temperature control and industry-leading energy savings to a wide variety of batch, process, rolling and molding applications.
Delta T Systems recently completed the design of a ground breaking line of variable speed chillers. The water and air cooled chillers are available from 1 to 30 tons and operate at a standard range of 0°F to 80°F (-18°C to 27°C). The well-proven technology in these units consumes 30-50% less energy than fixed speed models, and as a result offers a two to three year payback due to reduced operating costs. All portable chiller models offer state of the art, adaptive controls with remote communication options and are Industry 4.0 ready.

Industry 4.0 is an emerging industry standard that envisions a tight integration of machines and controls that come together with remotely connected equipment and humans in a progressively seamless manner. Industry 4.0 systems will incorporate transparent communication protocols and machine learning algorithms that can collect and analyze production data to improve efficiency, reduce maintenance requirements, support human activity and decentralize decision making. These systems will be able to learn and control work cells and production lines with very little input from human operators.
Delta T Systems air and water cooled variable speed chiller units are not only equipped for Industry 4.0, they also come loaded with standard features that some companies charge extra for.
Variable Speed Chiller Features
Variable speed drives controlling both the compressor and brushless DC fan motor
Adaptive controls
Full data collection and storage capability
Multiple industrial and web communication services built in
Remote monitoring and management
Compressor soft start
Electronic expansion valve
Oversized evaporators
Industry 4.0 Highlights
Work cells with robots, presses, and other auxiliary equipment all connected together
Web service support
MES collection of production data
Smartphone apps to get production status or alerts
Predictive maintenance monitoring of cell equipment
Production traceability
Remote access and control
Delta T Systems full line of air and water cooled chillers can be used in a large variety of industrial applications and industries:
Blow molding
Cleanrooms
Converting
Cosmetics
Die casting
Fermentation
Pet food processing
Food processing
Injection molding
Plastics
Pulp and paper processing
Pharmaceutical
Rubber
Thermoforming
Delta T Systems continues to lead the way in process temperature control with their complete line of portable industrial air and water cooled chillers and water and oil temperature control units. When precise temperature control is needed, contact Delta T Systems for a custom designed solution.
Featured Product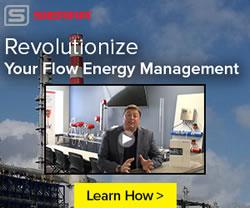 Sierra Instruments announces the launch of its new flow energy solution for managing and optimizing flow measurement for industrial facilities of all sizes. It features Sierra's QuadraTherm 640i/780i thermal flow meters, their InnovaMass 240i/241i vortex flow meters, and their new InnovaSonic 207i ultrasonic flow meter. Designed, built, and calibrated in the USA by Sierra, the Big-3TM share the same revolutionary Raptor firmware and many of the same software apps. They are a complete flow energy solution for flows like compressed air, natural gas, steam, and hot and chilled water. Together, they set a new standard in ease-of-purchase, performance, accuracy, reliability, and ease of use.