Keynote Speaker Todd Grimm IDs the pioneering 3D Manufacturer as a "Can't Miss" Company
Attendees at RAPID + TCT, North America's leading conference for 3D manufacturers and researchers, will want to mark down April 23, 2018 as the date they first heard about 3D Currax Solutions. Three years from now when the additive manufacturing R & D company is turning the industry on its head, they'll remember where they were when it became mainstream.

Todd Grimm, President of T. A. Grimm & Associates and a 25-year veteran of the additive manufacturing/3D printing industry, specifically mentioned 3D Currax in his keynote presentation at the conference's kickoff on Monday at the Fort Worth Convention Center. In his "Can't Miss" roundup of the latest products in 3D printing and scanning he said, "3D Currax has been privately developing technology that will advance production of mainstream products with a key focus on a process that can make optimal parts for their intended use...(it) took the combination of advanced additive manufacturing, custom robotics, AI, machine learning and development of key proprietary technology. In the end, they have designed an end-to-end system that makes finished 3D printed parts with no human interaction needed."
3D Currax was founded in 2015 by CEO Barry Mills, who has been developing advanced 3D printing systems capable per-part production speeds that are less than those found in injection molding. This allows industries reliant on mass production and rapidly-changing technologies, such as automotive, toy and healthcare, to make better designed parts faster and with more versatility, efficiency, and customizability.
"Just like Henry Ford revolutionized the production process for cars and changed the way people traveled forever, we're saying the status quo isn't good enough anymore and want to transform how manufacturers produce and bring their products to market," said Mills.
Mills says the company is poised to grow exponentially pending investment to build its MRK III and MRK X machines, which are designed for dental/educational and manufacturing enterprises. Having them readily available puts 3D Currax in direct competition with global plastics manufacturing, an industry worth approximately $462 billion.
"The market we're targeting is as-yet untouched for the additive manufacturing industry," said Mills. "We're going up against this behemoth but with the ability to produce parts faster and more efficiently, plus the added bonus of producing extremely complex parts. It truly is a David and Goliath type of scenario."
3D Currax currently houses a team of 26 employees and subcontractors out of its headquarters in British Columbia, Canada, and is looking for expansion into a larger U.S. facility. For more information about its technology and machines, go to http://www.3dcurrax.com.
Featured Product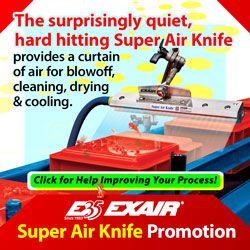 EXAIR Cabinet Cooler® Systems are a low cost, easy to install, maintenance free way to cool and purge electronic control panels. EXAIR Cabinet Coolers incorporate a vortex tube that produces cold air from ordinary compressed air - with no moving parts. The compact Cabinet Cooler can be installed in minutes through a standard electrical knockout. NEMA 12, 4, and 4X (IP54 and IP66) Cabinet Coolers that match the NEMA rating of the enclosure are available in many cooling capacities for large and small control panels. NEMA 12 Cabinet Coolers are ideal for general industrial environments where no liquids or corrosives are present. NEMA 4 Cabinet Coolers incorporate a low pressure relief valve for both the vortex tube and cabinet air exhaust. This valve closes and seals when the cooler is not operating to maintain the integrity of a NEMA 4 enclosure. NEMA 4X Cabinet Coolers offer the same protection as NEMA 4 but are constructed of stainless steel for food service and corrosive environments.