SME's Additive Manufacturing Community produces technical content for the organization's programs and other industry events on advanced additive manufacturing technologies and processes that allow the development, testing and manufacture of new products faster and more cost-effectively.
FORT WORTH, Texas, April 24, 2018 /PRNewswire-USNewswire/ -- SME announced its Additive Manufacturing Community awards at the RAPID + TCT event, being held this week at the Fort Worth Convention Center. Now in its 28th year, RAPID + TCT is the preeminent event for discovery, innovation and networking in additive manufacturing.

SME's Additive Manufacturing Community produces technical content for the organization's programs and other industry events on advanced additive manufacturing technologies and processes that allow the development, testing and manufacture of new products faster and more cost-effectively.
This year, the community has recognized two leaders in additive manufacturing with its 2018 Industry Achievement Award: Carl Deckard, PhD, chief technical officer, Structured Polymers, and Joseph Beaman, ScD, FSME, the Earnest F. Gloyna regents chair in engineering for the University of Texas at Austin. Deckard and Beaman, the co-inventors of selective laser sintering (SLS), were recognized for their significant and continued impact on additive manufacturing through the development of processes and technology applied in industry.
"Carl Deckard and Joe Beaman have both been instrumental in the development and expansion of global additive manufacturing," said Jeff DeGrange, chief commercial officer, Impossible Objects LLC and chair of SME's Additive Manufacturing Community. "The impact of their research, development and application of groundbreaking technologies cannot be overstated. We're proud to recognize them with this award."
Dick Aubin Distinguished Paper Award
This award is named after the late Dick Aubin, a founding member of the former Rapid Prototyping Association of SME and a pioneer in the international intelligent manufacturing systems effort.
The 2018 award-winning paper, "Design for Additive Manufacturing: Multi Material Sand Mold," truly embodies the award spirit of innovation and potential impact in the additive manufacturing field. It describes a novel method that uses the additive manufacturing process of binder jetting with different powders such as silica, aluminum, alumina and steel to create a multimaterial mold. Present at RAPID + TCT to accept their award were authors T. A. Le Néel, Centrale Nantes; P. Mognol, École Normale Supérieure de Rennes; and J. Y. Hascoët, Centrale Nantes.
Digital Manufacturing Challenge Winners
Since 2008, SME's Direct Digital Manufacturing Tech Group has held an annual student competition for high school and college students, challenging them to showcase their technical and commercial talents using additive manufacturing to add value to a design.
In that time, students have submitted some inventive and innovative designs for golf grips, inspector drones, door handles, crutch handgrips, knee braces and even a prosthetic leg for dogs.
The 2018 Digital Manufacturing Challenge was won by a team from Western Washington University: Kush Sharma, Sean Touhey, Eric Lim, Jacob Gahan and Robert Lafferty; and their faculty advisor David Gill, PhD.
The Western Washington University team created "The Vent Buddy," a smart, adjustable vent phone mount. The focus for this product was to create a safe environment for the use of a phonewhile driving, along with easy installation and no residue after removal. The device has a gripper that the customer would be able to push into their car vent and is designed for all smart phone sizes.
Texas A&M University was the runner-up for its "The Freedom Tool" design. The device incorporates an auto punch and seatbelt cutter into an ergonomic, easy-to-control tool. In two fluid steps, the Freedom Tool can cut a seatbelt and shatter a window with one hand, cutting down escape time. The Freedom Tool was designed by Bradley Lenaway with oversight provided by his faculty advisor, Wayne Hung, PhD.
RAPID + TCT concludes April 26. To learn more about the event, please visit rapid3devent.com.
About RAPID + TCT
For over 25 years, RAPID has defined the crucial role of additive manufacturing and empowered the establishment of an industry that continues to conceive, test, improve and manufacture new products at a faster, more cost-efficient pace. The two industry leaders in 3D technology events, SME and The TCT Group, are teaming up to produce the annual RAPID + TCT event starting in 2017. For users and suppliers alike, the event will be the premier destination for those who provide technology and for those who need to understand, explore and adopt 3D printing, additive manufacturing, 3D scanning, CAD/CAE, metrology and inspection technologies. For more information, please visit rapid3devent.com.
About SME
SME connects all those who are passionate about making things that improve our world. As a nonprofit organization, SME has served practitioners, companies, educators, government and communities across the manufacturing spectrum for more than 80 years. Through its strategic areas of events, media, membership, training and development, and the SME Education Foundation, SME is uniquely dedicated to the advancement of manufacturing by addressing both knowledge and skills needed for the industry. Learn more at sme.org, follow @SME_MFG on Twitter or facebook.com/SMEmfg.
Featured Product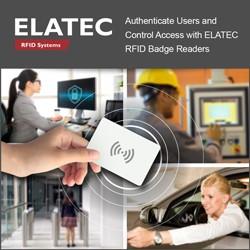 With a tap of the badge, RFID readers from ELATEC provide secure, reliable and easy-to-use user authentication, access control and usage tracking of hardware and software in industrial automation processes. Reader durability in harsh plant floor environments is another essential feature. Choose the right authentication and access control solution and extend RFID card-based capability for the access control of PLC, robot and HMI automation controller software and devices requiring special operator training.