Proprietary binder jetting technology will be on display at RAPID + TCT Conference
HÖGANÄS, Sweden--(BUSINESS WIRE)--Digital Metal®, a global leader in Additive Manufacturing, will unveil, for the first time, the worlds first high-precision 3D metal printer at the RAPID + TCT Conference April 24-26, 2018. This is the first time that the printer has been featured at a show in the United States. The DM P2500, which can be purchased or licensed from Digital Metal, can produce smaller and more intricate components in higher volumes than any previous AM technology.

"Last year we announced the commercial sales of our binder jet metal Additive Manufacturing system and since then weve experienced significant growth and increased demand for our technology," said Ralf Carlström, General Manager at Digital Metal. "As our global footprint continues to expand, were proud to showcase our 3D metal printer for the first time in the United States at the RAPID + TCT Conference. To date, we have produced more than 200,000 pieces for customers in several industries, including automotive, dental, healthcare, aerospace and luxury fashion, and were now ready to expand our capabilities and sales in the U.S."
To meet the increased demand for its 3D metal printers, Digital Metal expanded its production plant and office in Höganäs by 50 percent. This includes installation of a new vacuum extraction system and increased compression and cooling power, which will allow Digital Metal to double its sintering capacity. There will also be a separate room for quality control and an isolated space for printing with materials that require special handling.
The distinctive feature of Digital Metal's binder jetting method is that the components are printed and sintered instead of being melted together with lasers, providing superior resolution and detail accuracy. In addition, the production speed is significantly higher than other 3D printing technologies.
In addition to the 3D metal binder jet printer, Digital Metal also provides all the ancillary equipment required with each machine, as well as introductory and ongoing training and support to ensure customers are achieving the ultimate productivity and outputs.
Digital Metal is currently in discussions with various partners to help facilitate product distribution and support across in the U.S. and will be offering demos of its 3D metal printer at RAPID + TCT Conference in Fort Worth, Texas April 24-26, 2018. For additional information or to arrange a meeting with Digital Metal please visit www.digitalmetal.tech or contact ralf.carlstrom@digitalmetal.tech.
About Digital Metal
Digital Metal is the worlds first company to commercialize high-precision 3D metal printers for the production of small, high-volume components. Digital Metals proprietary binder jetting technology enables the production of high-quality complex objects with superior surface finish, which is not possible with competing AM technologies. The company also offers manufacturing of metal components. Among the customers are many of the world's leading technology companies such as Honeywell, Koenigsegg, Mectron, Montfort Watches, CETIM (the French Technical Center for Mechanical Industries) and Volvo, to mention a few. Digital Metal was founded in 2012 and has its headquarters in Höganäs. The company is part of the Höganäs Group, the worlds largest producer of metal powders. Read more at digitalmetal.tech.
Featured Product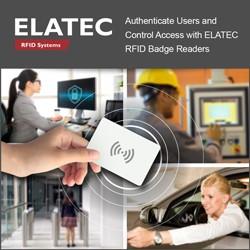 With a tap of the badge, RFID readers from ELATEC provide secure, reliable and easy-to-use user authentication, access control and usage tracking of hardware and software in industrial automation processes. Reader durability in harsh plant floor environments is another essential feature. Choose the right authentication and access control solution and extend RFID card-based capability for the access control of PLC, robot and HMI automation controller software and devices requiring special operator training.