Vortic Watch Company creates luxury wrist watch cases using additive manufacturing.
FORT COLLINS, Colo. — Vortic Watch Company is a small batch wristwatch manufacturing and

engineering company that is revitalizing watch manufacturing in the United States. They are the creators
of the American Artisan Series, a product dedicated to the preservation of historical American
pocket watch movements. Based in Fort Collins, Colorado, the Vortic story really began at Penn State
University, when two friends decided they wanted to create a watch that is truly American made. By
partnering with the universitys additive manufacturing department, the product came to life.
"We didnt think it would be this hard" said Vortic s CEO, R.T. Custer. "We were new to the watch
industry and didnt realize that no company manufactures movements (the internal timekeeping components
of watches) in the United States. While researching options, we stumbled upon antique American
pocket watches, and learned that more often than not, the movements were being scrapped for the
gold and silver that cased them. We were horrified! These are pieces of American manufacturing history
and they were literally getting thrown away. We knew that something needed to be done about it,
and out of necessity came invention, which led to the creation of the American Artisan Series."
The Vortic American Artisan Series represents the realization of what has been commonly referred to
in the industry as a "pocket watch conversion". But the Vortic created something more. Each piece in
the American Artisan Series has a preserved antique movement that is painstakingly restored, the dial
(face) and hands of an actual vintage pocket watch. But instead of a gold or silver case, this rescued
vintage watch is housed in a modern titanium case that has been crafted through an additive manufacturing
process. 3Dprinted titanium is used for most of Vortic watch case systems owing to the flexibility
of the manufacturing process and the founders shared background in advanced manufacturing.
"Powdered titanium is fused together one layer at a time using a Selective Laser Melting Machine at
our supplier Imperial Machine and Tool in New Jersey." said Tyler Wolfe, Chief Manufacturing Officer
for Vortic. "We decided to use this technology because each and every watch we build must be
unique, and thats a very difficult thing to accomplish cost effectively. By printing small numbers of
wrist watch cases at a time, were able to constantly adjust our casing system to fit the unique antique
pocket watch movements we rescue."
Christian Joest, of Imperial Machine and Tool said "We love working with Vortic; they represent an
interesting departure from our typical work. Watch cases arent something wed normally get involved
with, but when we learned Vortics story and met the founders, we were happy to work with them.
They are truly committed to preserving American manufacturing, both in the restoration and preservation
of antique American watch movements, as well as employing a team of skilled craftsmen at their
Colorado manufacturing facility."
The rest of the watch is technically amazing and beautiful as well, completely made in the United
States. The crystal (glass) on the front and back of the Vortic watch is Corning Gorilla Glass, similar
to the glass used on iPhone screens. The other metal parts are machined in Colorado at Vortics facility
or at one of their partner manufactures. The leather straps are hand stitched in Florida, and even the
buckles are cast specifically for Vortic.
"Were quite proud of the case engineering system we created" said Custer. "But the true value in our
watches is the component that we did not manufacture… the antique pocket watch movement." These
pieces of American history are salvaged from around the country by Vortics "pickers." "If youve
ever seen 'American Pickers on the History channel, our friends are just like those guys, but are looking
for old pocket watches. Unfortunately, many of the movements we find are orphans, tossed away
when their original precious metal pocket watch case was scrapped. We like to think were saving that
historical mechanism from being forgotten and enabling the celebration of its past."
The American Artisan Series by Vortic Watch Company is available online and in select retail stores
and is priced between $1,000 and $5,000 depending on the rarity and quality of the piece as well as
the case system options chosen. Vortic has a Watch Builder tool on their website: www.vorticwatches.com
which allows the customer to choose a specific, antique pocket watch movement from a small selection,
and design the rest of the wrist watch around it. When the design is complete to the customers
satisfaction, an order is placed and Vortic builds that unique piece. This is done one piece at a time,
just for that specific customer.
"We like to say: 'when its sold, its gone forever." says Custer. "Every watch we make is one of a
kind, and that is very rare in the watch industry, especially at our price point. Customers can be sure
that their watch is theirs and theirs alone. No one else can ever have one like it. Thats what people
want now in a watch because it makes it a conversation piece. We dont necessarily need a watch to
tell time anymore, so why not buy a watch that tells a story?"
Vortics founder R.T. Custer will be displaying the American Artisan Series at the RAPID 3Dprinting
trade show on April 24th and 25th by appointment only at Imperial Machine and Tools booth 204.
Contact rt@vorticwatches.com to set up an appointment.
View the full case study by SLM Solutions here:
http://slm-solutions.us/wp-content/uploads/2017/10/SLMSolutionsCaseStudy_VorticWatchesImperial.pdf
About Vortic Watch Company
Founded in 2013, Vortic Watch Company combines the cutting-edge technology of metal 3D printing
with salvaged and restored antique American-made pocket watch movements to create bespoke
wristwatches. Vortic watches have been featured in the New York Times, The Boston Globe, Watch-
Time Magazine, About Time Magazine, Worn&Wound, on NPR and in many other media outlets. Additionally,
Vortic watches are in displays at the NAWCC Museum in Columbia, Penn., as well as the
Charles River Museum of Industry in Waltham, Mass. Headquartered in Fort Collins, Colo., Vortic is
led by co-founders R.T. Custer and Tyler Wolfe, and its products are available both online and at
many fine jewelry and watch retailers nationwide. Because they are created from unique antique
pocket watches, every Vortic Watch is a one-of-a-kind timepiece with prices ranging from $1,000 to
$5,000. For more information, please visit www.VorticWatches.com.
Featured Product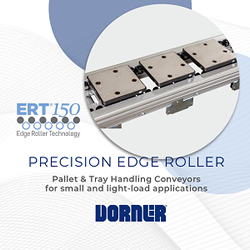 The next evolution in Dorner's Edge Roller Technology conveyor platform, the ERT®150, is ideal for small and light-load assembly automation, as well as medical and medical-device assembly application. The ERT platform is the only pallet conveyor of its kind available with an ISO Standard Class 4 rating for cleanroom applications. Earning the ISO Standard 14644-1 Class 4 rating means Dorner's ERT150 will conform and not contribute to the contamination of cleanrooms to those standards. As implied by its name, the ERT150 (Edge Roller Technology) uses rollers to move pallets through the conveyor smoothly with no friction (a byproduct often seen in belt-driven platforms). The conveyor's open design eliminates concerns of small parts or screws dropping into rollers and causing conveyor damage or jamming. The ERT150 is suited to operate in cleanroom environments requiring a pallet handling conveyor. It is capable of zoning for no or low-back pressure accumulation and is ideal for automation assembly applications within industries including medical devices, electronics, consumer goods among others.