UC one of eight schools worldwide to receive new technology
CINCINNATI--(BUSINESS WIRE)--The University of Cincinnati College of Engineering and Applied Science is one of eight schools worldwide selected to receive a 3D metal printer from GE Additive. As part of the GE Additive Education Program, UC has received a Concept Laser Mlab cusing 100R metal printing machine.

The partnership between UC and GE Additive was celebrated Tuesday, March 20, at UCs Victory Parkway Campus. Mohammad Ehteshami, GE Additive vice president and UC College of Engineering and Applied Science Distinguished Alumnus, talked about the importance of this new technology and why UC was selected for this partnership.
GE is a leading end-user and innovator in additive manufacturing, also known as 3D printing, a process that creates a physical object from a digital design. A 3D model is uploaded to an additive manufacturing machine, and a layering and melting process creates parts that can be lighter, more durable and faster to make because they require less assembly and machining.
"GE Additives generous gift will enhance the College of Engineering and Applied Sciences ties to local and national industry," said UC President Neville G. Pinto. "This partnership will give our students an advantage in the global technical workforce by exposing them to present-day innovations, greatly enriching their education and better preparing them for the changing workplace."
The partnership aligns with the universitys new strategic direction, Next Lives Here, by bringing innovation into the classroom and providing engineering students more ways to make an impact.
GE created its Additive Education Program in 2017, committing $8 million to provide metal additive machines to colleges and universities. More than 250 and colleges universities around the world applied. The applications were evaluated by a team of engineers at GE Additive, and the final eight were selected.
The following schools also received the 3D metal printers:
Auburn University
Boston University
Iowa State University
North Carolina State University
Ohio State University
University of New South Wales
U.S. Naval Academy
"Additive manufacturing is an exciting, disruptive technology that is revolutionizing the way we approach design and how parts are made. Giving students exposure to additive and helping them unleash its potential are critical to the success and advancement of the technology," said Mohammad Ehteshami, vice president of GE Additive. "In its first year, our Additive Education Program has given more than 180,000 students around the world the opportunity to experience firsthand the potential of additive manufacturing. Its great to see how the university is educating students in advanced manufacturing and creating the workforce of the future. I am confident this will help propel the universitys engineering program and change the world one industry at a time."
"One of our goals for our students is to provide them with unlimited options after graduation," said Paul Orkwis, interim dean at UCs College of Engineering and Applied Science. "GEs leadership and generosity is, in essence, inventing tomorrow by allowing our students the opportunity to use new technology and tools to change the world."
About GE Additive
GE Additive is part of GE (NYSE: GE) - the worlds Digital Industrial Company, transforming industry with software-defined machines and solutions that are connected, responsive and predictive. GE Additive includes additive machine providers Concept Laser and Arcam EBM; along with additive material provider AP&C and additive service provider to the medical industry, DTI. As a notable user of additive technologies GE recognize the value and potential it brings to modern design and manufacturing. www.ge.com/additive
About UC College of Engineering and Applied Science
The UC College of Engineering and Applied Science unleashes education by immersing students in a rigorous and innovative curriculum and culture of real-world, experience-based learning. The value of a CEAS degree is unparalleled, providing elevated placement, greater earning potential and unlimited post-graduate options.
Featured Product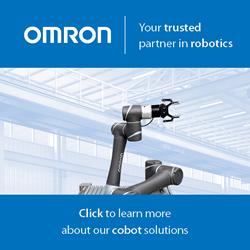 Humans and robots can now share tasks - and this new partnership is on the verge of revolutionizing the production line. Today's drivers like data-driven services, decreasing product lifetimes and the need for product differentiation are putting flexibility paramount, and no technology is better suited to meet these needs than the Omron TM Series Collaborative Robot. With force feedback, collision detection technology and an intuitive, hand-guided teaching mechanism, the TM Series cobot is designed to work in immediate proximity to a human worker and is easier than ever to train on new tasks.