Protolabs' purchase of a facility in Brooklyn Park, Minn., will enable the fast-growing digital manufacturing company to expand its prototyping and low-volume production capacity.
MAPLE PLAIN, Minn.--(BUSINESS WIRE)--Protolabs (NYSE: PRLB) has purchased a new manufacturing facility in Brooklyn Park, Minn., the latest step the digital manufacturing company has taken to expand its prototyping and low-volume production capacity. The company has also recently invested in additional manufacturing equipment for both its American and European facilities to support business growth.

The new 152,000 sq. ft. Brooklyn Park facility will be expanded by another 50,000 sq. ft. and used primarily for CNC machining. About 225 jobs at Protolabs Plymouth, Minn. plant will relocate to the Brooklyn Park building, enabling the company to expand the injection molding capacity in the Plymouth facility to support increased customer demands. The new Brooklyn Park plant is scheduled to become fully operational by the end of 2018.
Beyond the new machining facility, Protolabs continues to expand its manufacturing capacity with the addition of new equipment. Over the past 12 months, the company purchased more than 75 CNC mills and 25 injection molding presses in the United States. Additionally, Protolabs European operations purchased 25 CNC machines and six injection molding presses that are now in use at the companys facility in Telford, U.K. These investments expand Protolabs worldwide manufacturing capacity to more than 1,000 presses, mills, lathes, press brakes, laser cutters and 3D printers.
"We are excited about the growth weve experienced in machining," said Rob Bodor, Protolabs Vice President and General Manager, Americas. "Opening an additional facility in Brooklyn Park, along with investing in more machining and injection molding equipment around the world, demonstrates our ability to evolve and increase the services we provide to our customers as we capture share in this dynamic market. We helped over 35,000 product developers last year and this added capacity will provide the scale to continue serving companies from innovative startups to Fortune 100 companies and everyone in between."
CNC machining in particular continues to grow industry-wide. Protolabs machining service, for example, grew more than 27 percent in 2017 to over $100 million. This overall capacity growth illustrates the continuing digitalization of manufacturing processes that has made the economics of on-demand production possible. As a pioneer in this manufacturing technology, Protolabs has shown how significant supply chain benefits can be realized when procuring parts from a supplier using a digital approach.
About Protolabs
Protolabs is the worlds fastest digital manufacturing source for rapid prototyping and on-demand production. The technology-enabled company produces custom parts and assemblies in as fast as 1 day with automated 3D printing, CNC machining, sheet metal fabrication, and injection molding processes. Its digital approach to manufacturing enables accelerated time to market, reduces development and production costs, and minimizes risk throughout the product life cycle. Visit protolabs.com for more information.
Featured Product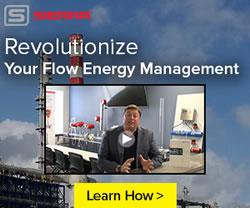 Sierra Instruments announces the launch of its new flow energy solution for managing and optimizing flow measurement for industrial facilities of all sizes. It features Sierra's QuadraTherm 640i/780i thermal flow meters, their InnovaMass 240i/241i vortex flow meters, and their new InnovaSonic 207i ultrasonic flow meter. Designed, built, and calibrated in the USA by Sierra, the Big-3TM share the same revolutionary Raptor firmware and many of the same software apps. They are a complete flow energy solution for flows like compressed air, natural gas, steam, and hot and chilled water. Together, they set a new standard in ease-of-purchase, performance, accuracy, reliability, and ease of use.