The ARS responds to the needs of the crane, machine tool, and automation industries for long travel cable carrier solutions.
NEW BERLIN, WI - Dynamic motion and protection company Dynatect introduces the new Gortrac® Articulated Roller Support (ARS) Long Travel System. The ARS responds to the needs of the crane, machine tool, and automation industries for long travel cable carrier solutions. This Articulated Roller Support is intended for applications up to 300 feet and eliminates the expense, potential damage, and depot storage area of a traditional trough. "Dynatect brings a revolutionary long travel system that eliminates wear and tow force spikes from alignment or failure of guide troughs, glide shoes, and push plates," said Mark Thurman, CEO of Dynatect. "This solution eliminates up to 50% of the force required to push and pull in most applications."

For decades in long travel applications, the default solution has been to allow the cable carrier to glide on itself within a guide trough. Non-gliding long travel applications are limited by the unsupported span of the cable carrier and number of support rollers that can be applied (fixed rollers cannot be placed in the area where the curve travels). Dynatect's ARS solution features articulating roller supports that are mechanically actuated by the curve of the cable carrier as it passes through the supports. These supports allow passage of the cable carrier as it travels and in turn provide support throughout the travel of the system. A video of this dynamic support and protection is available at: info.dynatect.com/ars
Thurman added that "Dynatect has drawn on over 50 years of cable carrier experience to develop a solution that costs less, eliminates 20% of the weight, and significantly improves safety factors for long travel applications." The ARS Long Travel System supports high load, high acceleration, high speed (greater than 5 feet/second) applications and has been tested through millions of cycles. Installation is faster than traditional trough systems and accommodates many styles of plastic cable carrier.
The new Gortrac ARS is manufactured in Valparaiso, Indiana and supported nationwide through a network of over 60 technical field sales representatives who can be found on the Dynatect website. More information including a summary brochure, can be found online at: info.dynatect.com/ars
About Dynatect
Dynatect (formerly A&A Manufacturing) delivers custom motion and protection for machines with deep application knowledge, diverse product offering, and a customer responsive sales philosophy. Dynatect provides engineering and manufacturing for custom applications which improve human-machine safety and machine uptime. Dynatect continues to build on its customer experience through improving service differentiation, expanding product portfolio, and reducing lead times.
Featured Product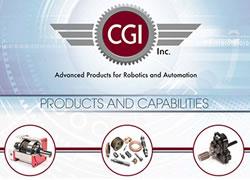 From Prototype to Production CGI Motion enables design excellence across a wide range of industrial applications. We thrive on customer driven innovation in precision gearbox, precision machined components and electro-mechanical assembly solutions ranging from aerospace systems to semiconductor applications. We are your design and manufacturing partner helping to differentiate your product, machine or innovation. Our team of problem solving engineers and product managers can bring your application to market on time and under budget. Whether it's an improvement on a current design or groundbreaking new designs, CGI has the know-how and team to enable design excellence. Connect with us today to explore what CGI Motion can do for you.