-Dassault Systèmes is catalyst, enabler for creating game-changing consumer experiences to impact society -3DEXPERIENCE platform is at the center of numerous CES exhibitors innovations -Booth features startups from 3DEXPERIENCE Lab, SOLIDWORKS for Entrepreneurs Program
VELIZY-VILLACOUBLAY, France--(BUSINESS WIRE)--Dassault Systèmes (Paris:DSY) (Euronext Paris: #13065, DSY.PA) will illustrate how industry, startups, entrepreneurs and makers are using the virtual world to invent sustainable solutions in digital health, vehicle technology, and smart cities - key themes of this years event - during CES 2018 in Las Vegas January 9-12.

Startups from the 3DEXPERIENCE Lab and the SOLIDWORKS for Entrepreneurs program -Digital Orthopaedics, Dracula Technologies, EEL Energy, Leka, Lincrevable, Perseus Mirrors, SYOS, XSun and XYT- will be featured at Dassault Systèmes booth #8300 in the North Hall. Here, they will detail how collaborative technology ecosystems enable them to develop and deliver new concepts in consumer-focused sectors such as personalized patient care, energy and water use.
"Parents and therapists of children with special needs often struggle to help them engage with their surroundings and make progress in different areas of learning," said Ladislas de Toldi, CEO, Leka. "The 3DEXPERIENCE Lab is enabling us to develop a multi-sensory robotic ball with lights, sounds and vibrations to engage children, closely follow their progress, and provide a fun way to keep them interested and motivated at home and in therapy."
Dassault Systèmes booth will feature startup demos, live pitches, and an "innovation in action" area focused on the 3DEXPERIENCE platforms holistic approach for the digital creation of game-changing consumer experiences that can positively impact society. Other startups and entrepreneurs will have the opportunity to pitch their projects to Dassault Systèmes experts, and receive advice on challenges, advancing their projects, and prototyping with the same technology deployed worldwide by more than 220,000 enterprise customers and 25 million users.
In parallel, new technology usage scenarios and demos by Dassault Systèmes customers and partners will focus on value creation in the high-tech, life sciences, consumer goods and retail, and transportation and mobility industries. These include sustainable 3D injection-molded structural electronics from TactoTek that enable designs across a wide range of product categories, high-performance battery systems and electric drivetrain solutions from Kreisel Electric, and the latest updates on the Living Heart Project that simulates a human heart for personalized health and medical research, including its extension to other parts of the body.
"Consumers today expect uniquely owned product experiences from purchase to end of life. Answering this expectation is absolutely crucial to the way companies think," said Olivier Ribet, Vice President, Industries and Cross-Industry, Dassault Systèmes. "Dassault Systèmes 3DEXPERIENCE platform enables the newest startups and the biggest companies to transform the way they innovate and do business. By connecting the dots across disciplines, by thinking in experience, by unleashing creativity, and by having a way to connect the virtual to the real worlds, they can become agile, nimbler, faster and more competitive, and can create value. At CES, you see the massive transformation and promise of technology, and Dassault Systèmes is at the center of it all."
For more information:
Dassault Systèmes industry solution experiences for high-tech: http://www.3ds.com/industries/high-tech/
Startups in Dassault Systèmes 3DEXPERIENCE Lab: https://3dexperiencelab.3ds.com/
Dassault Systèmes 3DEXPERIENCE platform, 3D design software, 3D Digital Mock Up and Product Lifecycle Management (PLM) solutions: http://www.3ds.com
###
About Dassault Systèmes
Dassault Systèmes, the 3DEXPERIENCE Company, provides business and people with virtual universes to imagine sustainable innovations. Its world-leading solutions transform the way products are designed, produced, and supported. Dassault Systèmes collaborative solutions foster social innovation, expanding possibilities for the virtual world to improve the real world. The group brings value to over 220,000 customers of all sizes, in all industries, in more than 140 countries. For more information, visit www.3ds.com.
3DEXPERIENCE, the Compass logo and the 3DS logo, CATIA, SOLIDWORKS, ENOVIA, DELMIA, SIMULIA, GEOVIA, EXALEAD, 3D VIA, BIOVIA, NETVIBES and 3DEXCITE are registered trademarks of Dassault Systèmes or its subsidiaries in the US and/or other countries.
Featured Product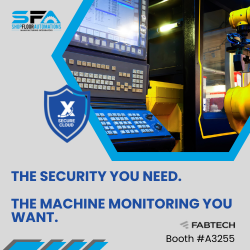 For manufacturers adhering to regulations like International Traffic in Arms (ITAR), Defense Federal Acquisition Regulation Supplement (DFARS) and other security and compliance requirements, the ability to monitor disparate machines, each with a unique control system and communication protocol with varying ages, can make continuous improvement initiatives challenging in the cloud. The Scytec DataXchange solution, available through Shop Floor Automations, resolves these issues by leveraging AWS GovCloud to capture real-time, Industrial Internet of Things (IIoT) data from a variety of equipment - from lasers and press brakes, to saws and robots - through universal machine connections to give teams full transparency on the shop floor through an architected secure cloud solution for a total smart factory transformation.