The On-Demand Manufacturing Platform Expands Production Capabilities By Adding Plastic Injection Molding
GAITHERSBURG, Md., Nov. 15, 2017 /PRNewswire/ -- Xometry, the leading on-demand manufacturing platform, announced today that it now offers Injection Molding Services, expanding its capabilities to support larger production orders. Xometry provides a wide range of manufacturing processes, including CNC Machining, Professional 3D Printing, Injection Molding, Urethane Casting and Sheet Metal Fabrication.

"We are thrilled to offer Injection Molding to our customers," said Randy Altschuler, CEO and co-founder of Xometry. "Our goal is to be our customers' one-stop shop for manufacturing on demand, and to provide value across all phases of product development and for a wide range of manufacturing processes. We've received interest in injection molding from many of our customers and are pleased to announce this new capability."
Xometry utilizes a network of more than 700 vetted manufacturers across the United States to deliver custom manufactured parts. This network approach provides the opportunity for Xometry to seamlessly add new capabilities. The addition of Injection Molding continues Xometry's rapid market expansion in 2017, with the company recently surpassing 7,000 customers spanning multiple verticals, including aerospace, automotive, consumer, medical devices and industrials.
About Xometry
Xometry is driving the business of American manufacturing through a proprietary machine learning-based software platform which offers on-demand manufacturing to a diverse customer base ranging from startups to Fortune 100 companies like BMW and General Electric. We provide product designers and engineers the most efficient way to source high-quality custom parts, with 24/7 access to instant pricing, expected lead time, and manufacturability feedback. Xometry orchestrates a nationwide network of hundreds of partner manufacturing facilities that enables it to maintain consistently fast lead times while offering a broad array of capabilities, including CNC Machining, 3D Printing, Sheet Metal, and Urethane Casting and Injection Molding.
Featured Product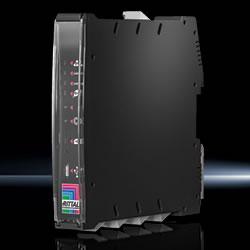 Rittal Blue e+ cooling units are currently the most efficient of their kind on the market. Besides being 75 percent more energy-efficient than previous cooling solutions on average, the units also excel in terms of connectivity, safety and handling.   What's more, their IoT interface enables Blue e+ units to link to customer-owned monitoring, energy management and/or superordinate systems via OPC-UA, Profinet, SNMP, Modbus TCP and CANopen, enabling predictive maintenance, data analytics and more.