Compact form factor and high performance ideal for OEM machine control applications
Middletown, CT - The Measuring Division of Kaman Precision Products, Inc., a world leader in the design and manufacture of high-performance, precision non-contact position measuring systems, announces the availability of its OEM-2306 non-contact linear displacement measuring instrument, using eddy current technology. The OEM-2306 offers the same high performance machine control as the KD-2306 signal conditioning electronics in a convenient smaller, bare PC board format.

The OEM-2306 is factory configured for each unique application, delivering lower costs in higher volume applications. The system's board level configuration makes it ideal for integration into OEM equipment. Additionally, the OEM-2306 is RoHS compliant and supports the full line of Kaman sensors.
The OEM-2306 delivers high resolution, high frequency response, and good linearity, thereby ensuring the high performance data and process control that OEM customers require. The OEM-2306 is a cost-effective replacement for linear variable differential transformers (LVDTs), air gauges, dial indicators, and micrometers.
Many aspects of the physical configuration and calibration of the instrument can be specified and customized to the needs of each individual high-volume OEM application, including extending the sensor cable, extended range calibration, temperature compensation calibration, and sensor customization.
For more information about the OEM-2306 non-contact linear displacement measuring system, visit
http://www.kamansensors.com/html_pages/OEM-2306.html or to learn about other Kaman Measuring products, visit http://www.kamansensors.com.
Featured Product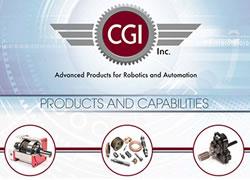 From Prototype to Production CGI Motion enables design excellence across a wide range of industrial applications. We thrive on customer driven innovation in precision gearbox, precision machined components and electro-mechanical assembly solutions ranging from aerospace systems to semiconductor applications. We are your design and manufacturing partner helping to differentiate your product, machine or innovation. Our team of problem solving engineers and product managers can bring your application to market on time and under budget. Whether it's an improvement on a current design or groundbreaking new designs, CGI has the know-how and team to enable design excellence. Connect with us today to explore what CGI Motion can do for you.