CINTEC North America, designer and manufacturer of the CINTEC Reinforcing Anchor System, announces it recently helped restore the Simpson Tower, a famous Canadian landmark, and one of the tallest buildings in Toronto.
WSP Canada Inc., the structural and facade engineering consultants for the over-cladding of the Simpson Tower, contacted CINTEC, whose innovative reinforcing technology was a perfect fit for the major restoration project. Additionally, D.F. Pray was retained as construction manager during the design, pre-construction and construction phases for the project.

All three companies worked together to restore the masonry panel-clad building, which was beginning to show signs of age. The CINTEC system reattached the cast panels (as a result of failing ties) while providing anchor points for a new glass curtain wall. WSP and CINTEC reworked potential solutions until the anchors developed were unique, project specific and withstood testing and application.
The CINTEC Reinforcing Anchoring System is performed by installing a steel bar, which is carefully enclosed in a mesh fabric sleeve, into the façade, and then injecting under low pressure a specially developed, proprietary grout.
Through this innovative approach, the project was completed without having to remove and inconvenience tenants, and as a further benefit, improve the "class" of the building while also addressing the ever-present Green Policy.
Robert Lloyd-Rees, COO of CINTEC North America, said: "The Simpson Tower is just one example of the many projects that we have undertaken over the last decade, restoring some of North Americas most iconic buildings using CINTECs extremely successful, patented anchoring system."
Peter James, chairman of CINTEC International added: "Robert and his teams recent completion of the historic Simpson Tower in Toronto is a perfect illustration of how we develop solutions to structural problems in high-rise buildings, as well as some of the worlds oldest and most-treasured archeological monuments."
###
About CINTEC
CINTEC North America is a world leader in the field of structural masonry retrofit strengthening, repair, and preservation. The principal activity of the company is the design and manufacture of the CINTEC Reinforcing Anchor System, a micro cement anchoring and reinforcing technique. CINTEC offers complete structural analysis and design services, turnkey solutions, as well as masonry repair and reinforcement anchors used for blast protection, seismic reinforcement, historic preservation and overall building strengthening. CINTEC has worked on projects around the world including the Egyptian Pyramids, Windsor Castle, Buckingham Palace, Statue of Liberty, the Library of Parliament in Canada and the White House.
CINTEC America of Baltimore, MD, has associated offices in Newport, Wales, UK; Newcastle, Australia; Ottawa, Canada and India.
For more information, call 1-800-363-6066; fax: 1 800.461.1862; e-mail: solutions@CINTEC.com or visit www.CINTEC.com.
###
Featured Product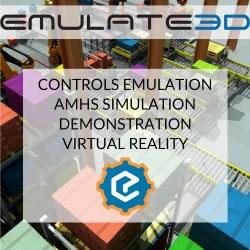 Emulate3D software helps you model and test your AMHS solutions rapidly. Use Demo3D to create running models quickly, then generate videos, stills, or view the models in virtual reality at the click of a button. Sim3D enables you to carry out experimental test runs to select optimal solutions and the most robust operating strategy, and Emulate3D Controls Testing is the best way to debug your PLCs offline, and off the project's critical path. Connect to major PLCs, import CAD, and plug into HTC Vive and Oculus Rift to produce awesome models!