Acquisition will enhance Materialises ability to offer complete manufacturing solutions for unique 3D-printed metal parts.
LEUVEN, Belgium — (BUSINESS WIRE) — October 4, 2017 — Materialise (NASDAQ: MTLS) has today announced the acquisition of ACTech, a Germany-based leader in producing limited runs of highly complex cast metal parts. The transaction brings together the metal competencies of Materialise, a leading provider of additive manufacturing solutions and software, with those of ACTech into a comprehensive metal manufacturing offering.

ACTech has over 20 years of deep knowledge and experience in the production, treatment and quality control of complex metal parts. The acquisition of ACTechs expertise and in-house infrastructure will enable Materialise to accelerate the development of its existing metal competence center and take a strong position in the market for the production and delivery of unique, complex 3D-printed metal parts.
"ACTech knows metal and how to shape it to production standard, and we know Metal 3D Printing. Bringing those two competencies together is vital to the delivery of high added-value metal 3D-printed parts for specialized applications," said Wilfried Vancraen, founder and CEO of Materialise.
Furthermore, the acquisition of ACTech will enable Materialise to develop and improve its software suite for Metal 3D Printing through close collaboration with ACTech, taking advantage of learning from an active metal manufacturing environment.
"Through the acquisition, we are further enhancing the manufacturing and software backbone position that will support the entire industry. For over 27 years, we have always been there as a leading, comprehensive provider of solutions in industrial polymers printing. That position has enabled us to both develop and serve a growing demand for certified manufacturing with dedicated software and solutions. By joining forces with ACTech, we will accelerate that same strategy for metal manufacturing," continued Wilfried Vancraen.
ACTech customers will gain immediate access to metal 3D-printed parts for pre-production design iterations. Materialise will leverage its Metal 3D Printing expertise to further grow ACTechs strong position in those markets where complexity and speed are the driving factors.
Materialise acquired ACTech based on a total enterprise value of €45 million for a total cash payment of €36.3 million to the sellers. In 2016, ACTech realized German GAAP revenue of €34.3 million with €8.2 million in EBITDA and €2.3 million in net profit. Materialise financed €28 million of the acquisition price through long-term bank financing that carries average interest rates of approximately 1.1% and used available cash for the remainder. The transaction is expected to be accretive to EPS immediately upon closing.
Materialise will update the companys financial guidance for its fiscal year ending December 31, 2017 when it announces its financial results for the third quarter of 2017.
About Materialise
Materialise incorporates more than 27 years of 3D printing experience into a range of software solutions and 3D printing services, which together form the backbone of 3D printing technologies. Materialises open and flexible solutions enable players in a wide variety of industries, including healthcare, automotive, aerospace, art and design, and consumer goods, to build innovative 3D printing applications that aim to make the world a better and healthier place. Headquartered in Belgium, with branches worldwide, Materialise combines the largest group of software developers in the industry with one of the largest 3D printing facilities in the world. For additional information, please visit: www.materialise.com.
About ACTech
ACTech produces cast unique parts and small batches for customers from various industries: for the automotive industry and its suppliers, for the aerospace industry, for machine and plant manufacturers. As one of the leading global companies in this area, ACTech provides all design and production processes, under one roof, necessary for the speedy production of complete casting parts. From the 3D data set, ACTech produces complete castings which are ready to be installed and tested.
State-of-the-art processes, combined with Computer Numerical Control ("CNC") pattern making and CNC machining, provide for extremely fast production of parts that, from the very first casting, are comparable to series production. ACTech's expertise benefits its customers by reducing development time and lowering costs compared to using conventional methods. The result is a smooth production launch for ACTech's customers. For additional information, please visit www.actech.de.
Featured Product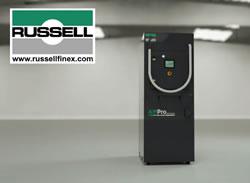 The Russell AMPro Sieve Station™ guarantees the quality of your additive manufacturing (AM) powder, and has been designed to provide optimum sieving efficiency, ensuring your powder is ready for use or reuse as and when you require it. With a simple one-button operation and mobile design, this automated check screener ensures your powder at every stage of the process is qualified for use quickly and safely. The flexibility of the Russell AMPro Sieve Station™ means you can use the system for numerous powder handling tasks - being a modular design ensures the machine can be configured to meet your exact requirements.