- Focused software strategy makes Ultimaker a future-ready solution that continues to deliver greater results over time for individual users and businesses. - Ultimaker Cura will be released on October 17th 2017 and offers seamless workflow integration with third party software providers. - Cura Connect will be released on November 7th 2017, enables automatic print job scheduling and management for multiple Ultimaker 3D printers
Birmingham, (September 26, 2017) - Leading 3D printer manufacturer Ultimaker announced their new software strategy at the TCT Show in Birmingham, UK. Already known worldwide for producing the most reliable and user-friendly 3D printers available, Ultimaker will put software at the heart of its strategy by releasing regular software upgrades that continuously enhance the existing hardware over time. This will make Ultimaker a future-ready solution that continues to deliver better results for users and businesses. The first two key software updates will be Ultimaker Cura and Cura Connect.

Ultimaker Cura
The release of Ultimaker Cura is scheduled for release on October 17th and offers a powerful, no-hassle solution to prepare files for digital fabrication.
The key benefits of Ultimaker Cura include:
● Expanding the Ultimaker ecosystem by offering software upgrades that improve the possibilities of the hardware.
● Integration with leading design and engineering software means businesses can create new workflows tailored to their needs
● Providing seamless workflow integration between industry-standard CAD applications such as SolidWorks and Siemens NX.
Cura Connect
Cura Connect will be released in Ultimaker Cura on November 7th 2017. Cura Connect enables users to manage an array of Ultimaker 3D printers, creating an accessible solution for prototyping, tooling and small-scale production. This pioneering industry solution allows users to schedule, queue and monitor print jobs for maximize the efficiency of Ultimaker 3D printers.
Paul Heiden, Senior VP of Product Management at Ultimaker explains: "Even customers that bought the very first Ultimaker 3 can benefit from the new software solutions provided in Ultimaker Cura, now, and in the future. We are proud to be providing future-ready solutions. Ultimaker Cura opens up the possibility of third party plugin development that ensures seamless workflow integration with industry-standard CAD software to make 3D printing even more accessible."
Siert Wijnia, founder of Ultimaker continues: "Furthermore, we will continuously develop new applications for our 3D printers, creating an even more integrated solution for our one million Cura users, including professional designers, engineers, researchers, and manufacturers. This will help users get the most out of their Ultimaker 3D printer."
About Ultimaker
Ultimaker has been in operation since 2011, and over the years has grown to become a market-leader; creating powerful, professional and accessible desktop 3D printers. With offices in the Netherlands, New York, and Boston, plus production facilities in Europe and the US, Ultimakers team of over 300 employees continually strives to offer the highest-quality 3D printers, software, and materials on the market.
Featured Product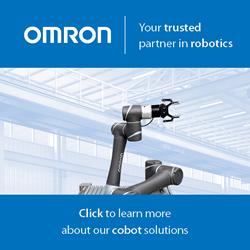 Humans and robots can now share tasks - and this new partnership is on the verge of revolutionizing the production line. Today's drivers like data-driven services, decreasing product lifetimes and the need for product differentiation are putting flexibility paramount, and no technology is better suited to meet these needs than the Omron TM Series Collaborative Robot. With force feedback, collision detection technology and an intuitive, hand-guided teaching mechanism, the TM Series cobot is designed to work in immediate proximity to a human worker and is easier than ever to train on new tasks.