ProMach is providing more value for its customers and setting the vision for the future
Nearly 20 years ago, a handful of packaging companies came together to offer the world something new. Today, after growing into 26 best-in-class product brands, http://www.ProMachBuilt.com. brings the entire organization together to offer even more value for its customers.

"The world has changed so much in the last two decades, and so have we. With new brands and capabilities being added to the ProMach family, a transformation has taken place. Weve become something new, something remarkable," says Mark Anderson, ProMach President and CEO. "The solutions we bring to the table today make us a premier player in the marketplace and weve set the bar very high in breadth of offering, in design innovation, in service, and in performance. Its time to showcase our collective innovation and strength as a united organization. Its time to show the world ProMach has become something greater: a comprehensive provider of complete packaging solutions, from line design to the end of the line, and beyond. Its time to let the world know that ProMach is Performance, Packaged."
ProMach recognized the need for a new, evolved message — one that could bring the entire global organization together and represent its evolution to customers and the entire industry in the best, and most easily understandable way. "Thats not just a product going down the packaging line, its our customers reputation," says John Eklund, ProMach Vice President of Marketing. "We needed a new way for all of us to commit to the same level of performance, to see it, and own it. Were not just selling machines, were delivering performance — so our customers dont need WHYs and HOWs; they need their products packaged, carefully handled, and ready to ship. Without delays. Without defects. Without disappointing a consumer. The only thing that matters to our packaging customers is results, so by focusing on performance we can better help them protect the reputation theyve worked so hard to earn with their consumers."
ProMach is delivering on its promise of performance by adapting a true, no-walls approach to teambuilding. By letting innovation flow across every business line, across every experience, to every customer everywhere, ProMach is leveraging the knowledge of all its best-in-class product brands - letting them grow and interact without walls.
"When the walls come down, our people can simply focus on performance. And, when our people are focused on performance, our promises are kept and our customers expectations are exceeded," says Anderson. "At ProMach, performance is what happens when all of our people and processes work as one."
To symbolize where ProMach is today, the company created a new brand identity that complements its new chapter. While each of its 26 best-in-class product brands will retain its individual identity, the new corporate brand identity reflects how ProMach has consolidated its culture, and brought its talent and capabilities together into one powerful, world-spanning team.
"By aligning our brands and services into our new framework, we make it possible for ProMach to better serve our entire customer base and take on any challenger, anywhere. However, this process wasnt simply a re-alignment or rebranding," says Eklund. "This brand evolution enables us to now more clearly articulate and actively share our narrative with customers. We have a very compelling story, and we want customers to understand that ProMach is a truly integrated company that can deliver any kind of packaging solution - from a single machine to a turnkey line. No matter the customer need, we will be there every step of the way, proving time and time again that ProMach is Performance, Packaged."
To see firsthand how ProMach is stronger together, visit booth C-3218 during PACK EXPO LAS VEGAS, from September 25 to 27, 2017, at the Las Vegas Convention Center.
For more information on ProMach, visit http://www.ProMachBuilt.com.
ABOUT PROMACH
ProMach is a family of best-in-class packaging solution brands serving manufacturers of all sizes and geographies in the food, beverage, pharmaceutical, personal care, and household and industrial goods industries. ProMach brands operate across the entire packaging spectrum: filling and capping, flexibles, pharma, product handling, labeling and coding, and end of line. ProMach also provides Performance Services including integrated solutions, design/build, engineering services, and productivity software to optimize packaging line design and deliver maximum uptime.
ProMach designs, manufactures, integrates, and supports the most sophisticated and advanced packaging solutions in the global marketplace. Its diverse customer base, from Fortune 500 companies to smaller, privately-held businesses worldwide, depends on reliable, flexible, technologically advanced equipment and integrated solutions. ProMach is headquartered near Cincinnati, Ohio, with manufacturing facilities and offices throughout the United States, Canada, Mexico, Brazil, Europe, United Arab Emirates and China. For more information about ProMach, visit http://www.ProMachBuilt.com.
Featured Product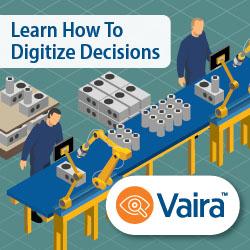 Pleora's AI Gateway is the most straightforward way to train and deploy artificial intelligence (AI) algorithms for inspection applications. With "no code" training, plug-in AI skills for detection, sorting, and classification, and processing flexibility to support open source and custom algorithms, designers and users can immediately reduce costly inspection errors while preparing for advanced Industry 4.0 and IoT applications.