Shuttleworth unveils a continuous motion dynamic accumulation conveyor system, delivering handling solutions for the most delicate products. (Shuttleworth Pack Expo Booth #C-3018)
Shuttleworth, powered by Pro Mach, exhibits DASH, a collaborative conveyor system configurable for random or FiFo accumulation, exhibiting at Pack Expo in Las Vegas from September 25-27. (Shuttleworth Pack Expo Booth #C-3018)

Dynamic Accumulation by Shuttleworth (DASH) is a collaborative conveyor design featuring patented Slip-Torque™ roller technology, ideal for gentle material handling of the most delicate products. This conveyor provides the benefit of continuous motion accumulation while minimizing product damage. DASH offers a bi-directional conveyor equipped with servo-controlled guides - providing smooth lane changing without stopping product. Its robust construction also provides flexible integration with scalable design based on product size and accumulation duration desired.
One of the core benefits of these features is the high line efficiency that can be achieved, rated at speeds of up to 500 products per minute. "DASH changes the way product handling is done today," states Ken Tinnell, vice president & general manager for Shuttleworth. "Its dynamic accumulation on steroids - offering a configurable system for random or FiFo (First-In-First-Out) accumulation. The enhanced functionality coupled with low pressure accumulation makes this system a great solution for markets like Pharmaceutical or Food where consumer products need to move out quickly but require more careful handling."
Also being highlighted at Pack Expo is Shuttleworths collaborative conveyor system equipped with a FANUC CR7iA/L collaborative robot and Schunk CoAct gripper, the latest innovation from Schunk. The conveyor features its Easy Clean™ 1000 sanitary conveyor equipped with the Slip-Torque™ roller technology.
Be sure to stop by the Shuttleworth Pack Expo Booth #C-3018 to see the dynamic accumulation system (DASH) and collaborative robotic display. For more information on the companys lines of product handling solutions, call Shuttleworth at 800-444-7412 and visit http://www.Shuttleworth.com.
About Shuttleworth
Since 1962, Shuttleworth has served as a leading designer, consultant, and manufacturer of solutions to solve whatever material handling challenge you might face. When you need a conveyor system that will accumulate, flip, stack, rotate, push, divert, or index your products between manufacturing or packaging processes, we can design and build it. Year after year, we continue to revolutionize our industry with Slip-Torque® technology and conveyor system and equipment innovations that are as unique as your product line. Shuttleworth is headquartered in Huntington, IN and also operates a manufacturing facility near Gent, Belgium and maintains a sales and engineering office in Kuala Lumpur, Malaysia. For more information about Shuttleworth, visit http://www.Shuttleworth.com.
About Pro Mach
Pro Mach is a leading provider of integrated packaging and processing products and solutions for food, beverage, consumer goods, pharmaceutical, and other diverse companies. Through multiple brands, Pro Mach provides product packaging and processing equipment, PMMI certified trainers, installation, parts, and service in Bottling & Capping, Primary Packaging, Pharmaceutical Packaging, Flexible Packaging, Material Handling, Labeling & Coding, and End of Line, as well as Integrated Solutions for complete packaging lines.
Pro Mach has a diverse customer base, from Fortune 500 companies to smaller, privately held businesses worldwide, which depends on reliable, flexible, technologically advanced equipment and integrated solutions. Pro Mach is headquartered near Cincinnati, Ohio, with manufacturing facilities and offices throughout the United States, Canada, Mexico, Europe, United Arab Emirates, and China. For more information about Pro Mach, please visit http://www.ProMachInc.com.
Featured Product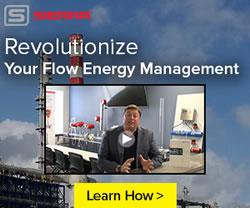 Sierra Instruments announces the launch of its new flow energy solution for managing and optimizing flow measurement for industrial facilities of all sizes. It features Sierra's QuadraTherm 640i/780i thermal flow meters, their InnovaMass 240i/241i vortex flow meters, and their new InnovaSonic 207i ultrasonic flow meter. Designed, built, and calibrated in the USA by Sierra, the Big-3TM share the same revolutionary Raptor firmware and many of the same software apps. They are a complete flow energy solution for flows like compressed air, natural gas, steam, and hot and chilled water. Together, they set a new standard in ease-of-purchase, performance, accuracy, reliability, and ease of use.