Lab Innovations - the UK's only dedicated showcase for laboratory, analytical and biotech equipment - continues to garner support from across the scientific community.
Returning to the NEC, Birmingham, for the sixth consecutive year on the 1st and 2nd of November 2017, this year's event will be backed by renowned organisations including the Science Council, Innovation DB and Laboratory News.

Laboratory News, the leading magazine for UK laboratory scientists, has been a media partner of Lab Innovations since its inception in 2012. Managing editor Phil Prime said: "For an editor, shows like this are the perfect opportunity to meet our readers and advertisers. The scientists, technicians and laboratory professionals who attend are the highlight for me, it's a joy to learn about the essential work they're doing. Lab Innovations always features excellent keynote speakers too, and I'm looking forward to two days of people sharing ideas that will go on to change science in some way. We'll capture these exchanges on camera with our multi-media team."
A new partner for 2017 is Innovation DB, which maintains the world's largest database of novel technologies available for license and purchase. Gerald Law, Chief Executive, explained: "With our shared interest in innovation, we are pleased to be supporting Lab Innovations 2017. I am particularly looking forward to hearing more about how novel processes are being combined with pioneering technologies to increase productivity."
Further support comes from the Science Council, a prominent membership organisation for professional bodies and learned societies across the various disciplines of science. Belinda Phipps, Chief Executive, commented: "The Science Council is absolutely delighted to be involved with Lab Innovations and looks forward to the event in Birmingham in November. The UK's scientists and science technicians are absolutely crucial to everything we do and we should be rightly proud of them. It is through their work that humanity can look ahead to a sustainable future. As always, Lab Innovations gives us a platform for us to encourage the scientific community to become Science Council registrants and be proud of being a scientist or science technician. We're looking forward to it."
For more information, visit www.easyfairs.com/lab-innovations-2017
Featured Product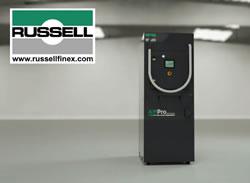 The Russell AMPro Sieve Station™ guarantees the quality of your additive manufacturing (AM) powder, and has been designed to provide optimum sieving efficiency, ensuring your powder is ready for use or reuse as and when you require it. With a simple one-button operation and mobile design, this automated check screener ensures your powder at every stage of the process is qualified for use quickly and safely. The flexibility of the Russell AMPro Sieve Station™ means you can use the system for numerous powder handling tasks - being a modular design ensures the machine can be configured to meet your exact requirements.