Awards will be presented during Manufacturing Day 2017 on October 6th
CEDAR KNOLLS, N.J. (August 22, 2017) - The standout manufacturers of The Garden State have been recognized by their peers and New Jersey Manufacturing Extension Program, Inc. (NJMEP) is pleased to announce the 2017 Manufacturing Award Finalists. Awards will be presented to Manufacturer of the Year (Small, Medium, Large, Young/Startup), Innovator of the Year, and the Raymond Hopp Award for Excellence, during the sixth annual "Made in New Jersey" Manufacturing Day. The event will take place on October 6, 2017 from 7:30 a.m. to 2:30 p.m. at The Bridgewater Marriott.

NJMEP is a not-for-profit company that works with New Jersey's small to mid-sized manufacturers to help them become more efficient, profitable and globally competitive. Finalists for the 2017 Manufacturing Awards were based on nominations of companies who met specific criteria.
"The 2017 Manufacturing Awards finalists demonstrate industry leadership, innovation, growth, and a commitment to development of their employees and communities," states John W. Kennedy, P.h.D, CEO of NJMEP. "New Jersey manufacturers have a global reach and NJMEP looks forward to honoring those who are making an impact on our economy and the careers of our citizens during Manufacturing Day 2017."
The 2017 Manufacturing Awards Finalists are as follows:
Manufacturer of the Year - Small (50 or less employees)
· Belleville Wire
· eMachineShop
· Alexian Pate
· I.W. Tremont
· Koba
· ZaGO
Manufacturer of the Year - Medium (between 51 and 250 employees)
· California Closets
· Demountable Concepts
· Norwalt Design
· NWL
· UNEX
Manufacturer of the Year - Large (251 employees or more)
· Tropical Cheese Industries
· Kreisler a United Flexible Company
· GGB Bearing Technology
Manufacturer of the Year - Young/Start Up (in business 5 years or less)
· 3DMonstr
· Jersey Girl Brewing
· Raw Generation
· Sock Gang LLC
Innovator of the Year
· Easterseals
· Employment Horizons
· Productive Play
Raymond Hopp Award for Excellence
· Larry Taitel, Convertech, Inc.
· Jim Placa, Davion Inc.
· Lew Weiss, All Metals & Forge LLC
At Manufacturing Day 2017, NJMEP will bring together manufacturers, students, supporters, legislators and industry experts in a collective effort to educate visitors about manufacturing career opportunities and improve public perceptions of manufacturing.
In addition to the awards presentation, specifically designed workshops and seminars will educate about best practices on critical topics and encourage partnerships between business and community leaders.
Peter C. Connolly, President of Shock Tech, Inc. and Chairman of the Board, NJMEP, states, "This is a pivotal time to rally for our industry. You don't have to be employed by a manufacturer to take action. Legislators, educators and community members can make a positive impact on our initiatives."
Manufacturing Day 2017 registration is now open. To get the full agenda, including a list of breakout sessions and speakers as they are announced, and to confirm your spot, please visit www.njmep.org.
About NJMEP:
NJMEP is a private, not-for-profit organization that improves the profitability and competitiveness of New Jersey's manufacturers. Backed by the National Institute of Standards and Technology (NIST), NJMEP enables organizations to enhance their productivity and efficiencies, reduce costs, and improve employee performance. For more than 20 years, NJMEP has used its extensive network of connections and proven track record of success to help manufacturers adapt to the latest innovative technologies and best practices to realize more than $3.4 billion in value. Services are categorized into the following three areas: Operational Excellence, Innovation and Growth Strategies, and Workforce Development.
Featured Product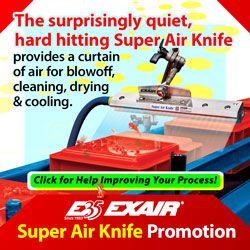 EXAIR's Super Air Knife is a quiet, hard-hitting curtain of air that dramatically reduces compressed air usage and noise when compared to other blowoffs. The Super Air Knife offers a more efficient way to clean, dry or cool parts, webs or conveyors. It delivers a uniform sheet of laminar airflow across the entire length with hard-hitting force. Noisy blowoffs become a whisper when replaced with the compact Super Air Knife. Even at high pressures of 80 PSIG (5.5 BAR), the sound level is surprisingly quiet at 69 dBA for most applications! Air amplification ratios (entrained air to compressed air) of 40:1 are produced. Meets OSHA maximum dead-end pressure and noise requirements. See the Super Air Knife in action at https://exair.co/watchairknives?pub=184.akv Special promotion is available now. www.exair.com/184/sakpromopr.htm