GE is now working to certify several companies by years end, creating a network of additive production capabilities across many industries and regions.
WEST CHESTER, OHIO - August 23, 2017 - GE Additive is actively selecting companies to become certified additive production centers for its customers.

During this past Paris Air Show in June, GE Additive signed an MoU with Oerlikon of Switzerland, which included an agreement for Oerlikon to become a GE Additive preferred (non-exclusive) component manufacturer.
GE is now working to certify several companies by years end, creating a network of additive production capabilities across many industries and regions.
"We (GE Additive) are not currently in the business of making additive parts for other companies," said Mohammad Ehteshami, Vice President and General Manager for GE Additive. "We want to accelerate additive manufacturing by providing machines, materials and engineering consultancy services to them. However, we do recognize that there is a huge demand for additive parts, so we feel that setting up these certified production centers will allow us to meet the growing demand for additive components."
Each certified production partner will operate additive machines from Concept Laser and Arcam, use additive material from AP&C and benefit from orthopedic best practices developed at DTI. The centers will be held to the highest quality standards and will receive guidance and advice from GEs additive design and manufacturing experts - enabling them to deliver world-class additive parts and service.
For many years, GE has been a leading end-user and innovator in the additive manufacturing space, investing approximately $1.5 billion in advanced manufacturing and additive technologies over the past 10 years. In 2016, the company established GE Additive to become a leading supplier of additive technology, materials and services for industries and businesses worldwide, investing $1.4 billion in Concept Laser and Arcam.
About GE Additive
GE Additive is part of GE (NYSE: GE) - the worlds Digital Industrial Company, transforming industry with software-defined machines and solutions that are connected, responsive and predictive. GE Additive includes additive machine providers Concept Laser and Arcam EBM; along with additive material provider AP&C and additive service provider to the medical industry, DTI. As a notable user of additive technologies (also known as 3D printing) GE recognize the value and potential it brings to modern design and manufacturing. GE is organized around a global exchange of knowledge, the "GE Store," through which each business shares and accesses the same technology, resources and intellect. GE delivers better outcomes for customers by speaking the language of industry.
www.geadditive.com
Featured Product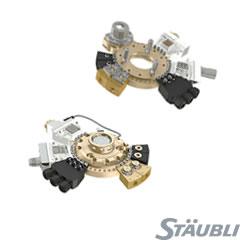 TX2 robots: redefining performance by offering collaborative safety and high performance in a single machine. These pioneering robots can be used in all areas, including sensitive and restrictive environments, thanks to their unique features. Safety functions are easy and inexpensive to implement. They allow a higher level of interactions between robots and human operators, while still guaranteeing protection of your people, production and investment.