New Modular Robotic Deburr Demo Cell Includes interchangeable stations and FANUC robot
South Elgin, IL - August 16, 2017 - Matrix Design, LLC will be exhibiting at Gear Expo 2017 from October 24-26 in Columbus, OH. Thousands of gear industry professionals are expected to attend the event to discover cost-effective solutions and new technologies.

Gear Expo, owned by the American Gear Manufacturers Association, offers learning opportunities and educational options designed to give technology professionals and those that serve the industry tools to succeed in the future. This event takes place at the Greater Columbus Convention Center where attendees will get a one-stop shopping experience that covers all their manufacturing needs including automation, forgings, bearings, heat treating, inspection, and more than 75 other product categories.
Matrix will exhibit in booth #422, a 20' x 20' space, and will feature their brand new Deburr Demo cell. Here, attendees will have the opportunity to see live advanced robotic deburring technologies. This modular-designed automation system includes four interchangeable stations arranged in a quadrant formation around a single M-20iA35M FANUC robot, each featuring various deburring solutions that address the unique challenges associated with deburring.
"We are very excited to unveil our new robotic deburring applications system," says Jeff Bennett, Vice President of Sales and Marketing. "This new system will allow us to demonstrate our automated deburring technologies to manufacturers as well as qualify new potential deburring applications." Matrix's staff will be on hand to present, answer questions, and to help end users understand how manufacturers' operations can benefit from increased productivity, improved safety and work environment, decreased costs, and consolidation of processes.
About Matrix Design
Matrix works closely with end users to develop, build, and install robotic automation systems. Specializing in machine tending, deburring, and a range of material handling systems, Matrix has built a reputation for designing and delivering the most optimal and robust industrial automation systems to manufacturers worldwide. To learn more, visit www.matrixdesignllc.com or call us at 847-841-8260.
Featured Product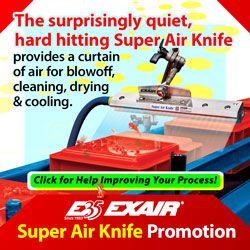 Reversible Drum Vac & High Lift Reversible Drum Vac - Pump 55 gallons in 90 seconds! Two-way pumping action! EXAIR's compressed air operated Reversible Drum Vac and High Lift Reversible Drum Vac attached quickly to any closed head 30, 55, or 110 gallon drum and can fill a 55 gallon drum in less than two minutes. With the simple turn of a knob, the same stainless steel pump quickly empties the drum. High Lift Drum Vac lifts up to 15 feet. Chip Trapper & High Lift Chip Trapper - Vacuums in liquid with solids and pumps out only liquid! Machine tools commonly discharge some chips and shavings into the coolant sump. The Chip Trapper and the High Lift Chip Trapper vacuums coolant or liquid that is filled with debris and traps all the solids in a reusable filter bag, leaving your coolant clean. High Lift Chip Trapper cleans with up to 15 feet of lift. See our current Promotion and all of the other Industrial Vacuums available.