Free online video tutorials and in-person training at Star Rapid's facilities allow designers to learn best practices and hone 3D metal printing design skills
SAN FRANCISCO - July 31, 2017 - Star Rapid, a global rapid prototyping, rapid tooling and low-volume manufacturer, today announces a new 3D Metal Printing Training Initiative dedicated to providing free resources and tools to teach the design and engineering community proper design for 3D metal printing. This new initiative will include the development of a 3D metal printing online video library as well as three-day workshops at Star Rapid's headquarters.

"The quick emergence and complexity of 3D metal printing has created a massive design-process deficit within the industry," said Gordon Styles, founder and president of Star Rapid. "As a manufacturer, we are well positioned to share best practices and lessons learned on this subject as we've seen first-hand how hard it can be to develop the correct design parameters for a build. Greater widespread design knowledge will help unlock the full and boundless potential of 3D metal printing for more widespread application."
Video Resource Library
As part of this initiative, Star Rapid has launched a series of videos for the product design and engineering community that promote the value of 3D metal printing and its potential to create strong, innovative parts with less waste. Most importantly, the tutorials provide valuable knowledge on how to design for manufacturing and avoid various common design pitfalls that have emerged due to the vast differences between 3D metal printing, 3D plastic printing, and traditional manufacturing techniques such as CNC machining.
The first three video tutorials are now available online on Star Rapid's website. The Designing for 3D Metal Printing videos series include: Episode 1: Introduction to Designing for 3D Metal Printing; Episode 2: Walls, Gaps and Holes; and Episode 3: Bridges and Overhangs.
In-person Workshops
Star Rapid is also offering exclusive face-to-face and hands-on training at its premier 60,000 square foot manufacturing facility in Southern China. The training will allow attendees to design a part, receive feedback from the company's 3D printing experts and print the part using Star Rapid's DMLM Renishaw printer. The company's experienced team will work closely with attendees to show them exactly how parts must be designed for this process using the company's cutting-edge equipment. This valuable experience will help attendees gain a holistic view of 3D metal printing that will be critical for discovering new design applications for the technology. Ultimately, this knowledge will help save money and time for entrepreneurs, engineers and product designers by eliminating "trial and error" during the production process.
Upcoming face-to-face training courses are planned for later this year from August 14-16 and November 6-8, as well as next year from March 14-16. If interested, simply fill out the expression of interest form here. For more information on the logistics, training schedule and benefits of attending, click here.
To learn more about Star Rapid, visit www.starrapid.com or follow the company on LinkedIn, Facebook and Twitter.
About Star Rapid
Star Rapid is a global rapid prototyping, rapid tooling and low-volume manufacturer. The company focuses on rapid prototyping, CNC machining, 3D metal printing, injection molding, pressure die casting, vacuum casting and a wide range of finishing services. Offering competitive prices and short lead times, Star Rapid places special emphasis on producing accurate and high-quality products and parts for its customers. Star Rapid's manufacturing facility is based in Zhongshan, China with sales offices in the U.S., U.K., Australia and Germany. For more information, email enquiry@starrapid.com or visit www.starrapid.com.
Featured Product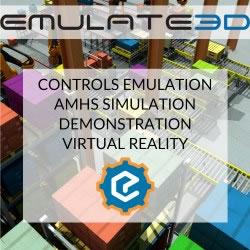 Emulate3D software helps you model and test your AMHS solutions rapidly. Use Demo3D to create running models quickly, then generate videos, stills, or view the models in virtual reality at the click of a button. Sim3D enables you to carry out experimental test runs to select optimal solutions and the most robust operating strategy, and Emulate3D Controls Testing is the best way to debug your PLCs offline, and off the project's critical path. Connect to major PLCs, import CAD, and plug into HTC Vive and Oculus Rift to produce awesome models!