Based on Kudo3D's extensive experience of developing successful 3D printers, the company launched a high resolution, affordable, and reliable model: Bean 3D printer. To support its production, Kudo3D turned to popular Kickstarter with huge success.
The global 3D printing market reveals tremendous increase each year and is expected to reach $8.6 billion by 2020, registering a CAGR of 21% during 2015 - 2020.*

In this booming market, Kudo3D has already proven that it can produce successful 3D printer models. Three years ago the company launched the famous Titan 1 and Titan 2 printers. Its highly specialized and experienced team is the guarantee behind Kudo3D's projects.
Now, it is the turn of a very promising launch: the introduction of the ultimate consumer SLA 3D printer, Bean. The Bean 3D is a fully fledged, compact desktop printer suitable for office, studio, or workshop environment. Due to its printing at 50 micron XY (capable of 10 microns Z layer thickness), the printouts of Bean have an amazing high-resolution similar to DLP 3D printers.
This amazing printer has a high-resolution 2K LCD panel coupled with a purple 405nm LED lamp to project slices of a 3D model onto the floor of resin container and one of the lowest power consumption. It is super compact, stylish and affordable.
Moreover, the Bean 3D printer is offered at a tremendously discounted price through Kickstarter. The crowdfunding campaign has already proven to be extremely successful and the state-of-the-art printer has raised more than $500,000 so far. Only a few days are left for potential funders to claim their perk.
For further information and to participate in this great project, visit its page on Kickstarter http://www.kickstarter.com/projects/kudo3d/bean-3d-printer-the-ultimate-consumer-sla-3d-print
About
Kudo3D, based in Dublin, California, is a pioneer in 3D printer design and production. With several ultra successful projects, their aim is to develop products that disrupt the market. http://www.kudo3d.com
*alliedmarketresearch.com/3d-printing-market
Featured Product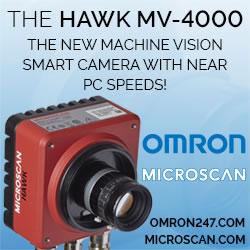 Awe-inspiring power and superior flexibility is sheathed within the contoured casing of the HAWK MV-4000. This smart camera builds upon the previous generation by quadrupling processing power and achieving real-time trigger response using an FPGA. Its state-of-the-art algorithms make it an excellent tool for any industry, whether the requirement be code reading, code verification, inspection, guidance, gauging or a combination of all four.