TI's DesignDRIVE Fast Current Loop software for real-time C2000™ MCUs delivers the performance levels of FPGA solutions without the design complexities
DALLAS, June 27, 2017 /PRNewswire/ -- Texas Instruments (TI) (NASDAQ: TXN) today introduced DesignDRIVE Fast Current Loop software that makes C2000™ microcontrollers (MCUs) the first devices to push current-loop performance to less than 1 microsecond. Together, TI's C2000™ MCU portfolio and DesignDRIVE software delivers system-on-chip (SOC) functionality which simplifies drive control system development. New DesignDRIVE Fast Current Loop software out performs traditional microcontroller (MCU)-based current-loop solutions and can simplify designs by eliminating the field-programmable gate array (FPGA) typically used for external current-loop control. Fast Current Loop software is a free update available for C2000 controlSUITE™ software. For more information, see www.ti.com/C2000Drives-pr.

TI's DesignDRIVE technology is a unified hardware and software platform that makes it easier for engineers to develop and evaluate solutions for a variety of industrial drive and servo topologies. As a key part of DesignDRIVE solutions, the new Fast Current Loop software enables developers to achieve higher control performance while saving valuable board space and simplifying thermal considerations.
Features and benefits of TI's DesignDRIVE Fast Current Loop software
Innovative subcycle pulse-width modulation (PWM) update techniques significantly improve control-loop bandwidths to potentially triple the motor torque response.
A novel cycle-scavenging C2000 MCU needs only 460 nanoseconds for field-oriented control processing.
A new complex controller replaces traditional proportional integration control and facilitates greater stability at higher speeds.
Industrial drive systems designed with Fast Current Loop software on a C2000 MCU, like the TMS320F28379, delivers SOC functionality to reduce board space, complexity and overall cost.
Get started today
Developers can get started immediately by downloading TI's free new Fast Current Loop software on the DesignDRIVE solutions page. In addition, the C2000 DesignDRIVE development kit for industrial motor control (TMDXIDDK379D) includes the hardware for industrial motor control designs and can support two simultaneous Fast Current Loop s as well as DesignDRIVE Position Manager technology. The kit is also available as the reference design, TIDM-SERVODRIVE.
Pricing and availability
The new DesignDRIVE Fast Current Loop is available today for the C2000 Delfino™ TMS320F2837x family of MCUs for advanced control applications start at US$11.32 in 1,000-unit quantities available in the TI store and at authorized distributors. Additionally, the C2000 DesignDRIVE development kit (TMDXIDDK379D) is available for immediate purchase for $999. TI plans to offer Fast Current Loop support for the TMS320F2807x and TMS320F28004x C2000 Piccolo™ MCUs in the future.
Learn more about Fast Current Loop for TI MCUs
Read "Achieve unprecedented current-loop performance from an off-the-shelf MCU"
Read our white paper, "A faster current loop pays off in servo motor control."
Check out the full DesignDRIVE story.
About Texas Instruments
Texas Instruments Incorporated (TI) is a global semiconductor design and manufacturing company that develops analog integrated circuits (ICs) and embedded processors. By employing the world's brightest minds, TI creates innovations that shape the future of technology. TI is helping more than 100,000 customers transform the future, today. Learn more at www.ti.com.
Trademarks
C2000, controlSUITE, Delfino and Piccolo are trademarks of Texas Instruments. All registered trademarks and other trademarks belong to their respective owners.
Featured Product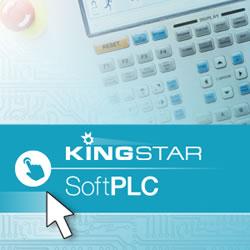 The top machine builders are switching from proprietary hardware-based PLCs, like Allen-Bradley, TwinCAT, Mitsubishi and KEYENCE, to open standards-based EtherCAT-enabled software PLCs on IPCs. KINGSTAR provides a fully-featured and integrated software PLC based on an open and accessible RTOS. KINGSTAR Soft PLC also includes add-on or third-party components for motion control and machine vision that are managed by a rich user interface for C++ programmers and non-developers alike.