The patent-pending, non-contact manipulation technology uses ultrasonic waves to trap and move small particles and components, enabling 3D printing and assembly using a wide range of materials and components.
Vilnius, Lithuania - June 26, 2017 - The Ultrasound Research Group at Neurotechnology today announced that it is developing a new, patent-pending ultrasonic 3D printing technology. This new technology will enable 3D printing and assembly of almost any type of object using a wide range of different materials and components. Because of the non-contact nature of ultrasonic manipulation, even small particles in the submillimeter range and sensitive components can be easily handled without causing any damage, enabling its use in many different prototyping and manufacturing scenarios.

As a demonstration, the Ultrasound Research Group has created a prototype printer that can assemble a simple printed circuit board (PCB), and the company has produced a video that further explains this innovative technology.
The demonstration prototype employs an array of ultrasonic transducers for the positioning of electronic components on a PCB board. In order to ensure high positioning accuracy, it uses a camera for detecting the position of the PCB and the various electronic components. A laser is used for soldering the elements onto the PCB in a non-contact way, complementing the non-contact component manipulation.
"Ultrasonic manipulation can handle a very large range of different materials, including metals, plastics and even liquids," said Dr. Osvaldas Putkis, research engineer and project lead for Neurotechnologys Ultrasound Research Group. "Not only can it manipulate material particles, it can also handle components of various shapes. Other non-contact methods, like the ones based on magnetic or electrostatic forces, cant offer such versatility."
Ultrasonic manipulation is a non-contact material handling method which uses ultrasonic waves to trap and move small particles and components. It has a few key advantages over conventional mechanical handling methods:
• It can be used for manipulating material particles and components with very different mechanical properties and shapes,
• It can deal with a large range of particle and component sizes, from a couple of millimeters down to a submillimeter range,
• It can manipulate very small components while completely avoiding the presence of electrostatic forces, and
• It can manipulate sensitive components without causing any damage.
The Ultrasound Research Group at Neurotechnology has strong expertise in the development of transducer technology and dedicated electronics for array control, ultrasonic field modelling and ultrasonic particle manipulation. Neurotechnology has a patent pending for a 3D printing apparatus and method employing ultrasonic manipulation. The company invites other companies to take part in further development and application of this technology.
For more information about Neurotechnologys ultrasonic 3D printing and manipulation technology go to www.neurotechnology.com.
About Neurotechnology
Neurotechnology is a developer of high-precision algorithms and software based on deep neural network (DNN) and other AI-related technologies. The company offers a range of products for biometric fingerprint, face, iris, palmprint and voice identification as well as AI, computer vision, object recognition and robotics. Drawing from years of academic research in the fields of neuroinformatics, image processing and pattern recognition, Neurotechnology was founded in 1990 in Vilnius, Lithuania and released its first fingerprint identification system in 1991. Since that time the company has released more than 130 products and version upgrades. More than 3000 system integrators, security companies and hardware providers integrate Neurotechnology's algorithms into their products, with millions of customer installations worldwide. Neurotechnology's algorithms have achieved top results in independent technology evaluations, including NIST MINEX and IREX.
Neurotechnologys Ultrasound Research Group was created in 2014 and has since been working on ultrasonic 3D printing projects and other ultrasound-related research.
Featured Product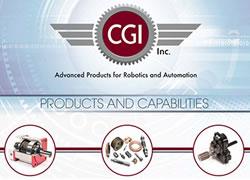 From Prototype to Production CGI Motion enables design excellence across a wide range of industrial applications. We thrive on customer driven innovation in precision gearbox, precision machined components and electro-mechanical assembly solutions ranging from aerospace systems to semiconductor applications. We are your design and manufacturing partner helping to differentiate your product, machine or innovation. Our team of problem solving engineers and product managers can bring your application to market on time and under budget. Whether it's an improvement on a current design or groundbreaking new designs, CGI has the know-how and team to enable design excellence. Connect with us today to explore what CGI Motion can do for you.