Blasch Precision Ceramics will be exhibiting at the American Society of Sugar Cane Technologists 47th Annual Joint Meeting in New Orleans from June 14th to June 16th.
Albany, NY - June 9, 2017, Blasch Precision Ceramics, Inc., an Albany-based ceramic technology manufacturer, will be exhibiting at the ASSCT 47th Annual Joint Meeting in New Orleans, Louisiana, booth #28, from Wednesday, June 14 through Friday June 16. Market Manager Tim Connors will be there to discuss the design and qualities of various products.

With a total of 49 registered exhibitors, the American Society of Sugar Cane Technologists 47th Annual Joint Meeting allows its members to present papers on various subjects associated with the growing and processing of sugarcane for sugar. This meeting creates a great opportunity to network and connect with other suppliers, sharing and exchanging ideas and information with one another.
About Blasch Precision Ceramics
Founded in 1979, Blasch Precision Ceramics provides innovative solutions for the world's toughest refractory applications. Blasch produces premium quality net shape refractory ceramic shapes and systems for a variety of manufacturing and process industries throughout the world, including aerospace metal processing, chemical processing, petrochemical refining, power generation, non-ferrous metal processing, industrial process heating, mining, minerals processing, cement and wear.
For more information, visit Blasch at www.BlaschCeramics.com.
Featured Product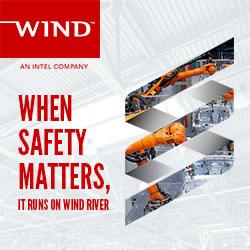 When it comes to ensuring the development of can't-fail systems, Wind River® is a leader with a proven track record of success. With more than 30 years of experience in embedded software and a portfolio of products deployed across more than 2 billion devices, Wind River delivers safety and security when it counts most. From industrial automation to automotive systems, as well as in healthcare devices, railway operations, and throughout the aerospace and defense sector, Wind River has extensive expertise providing built-in safety for complex, connected, safety-critical systems.