Programmable actuators capable of providing feedback on work being done, as it is being done, are now dust-proof and waterproof.
SMAC Moving Coil Actuators announced details for their highly anticipated, dustproof and waterproof, IP65/IP67 product line. SMAC's IP rated products include the CBL35/CBL35C series electric cylinder, the CBL50/CBL50C series electric cylinder, the LAL95 series linear actuator, and the LCA50 series linear actuator.

All dustproof and waterproof SMAC moving coil actuators include the ability to do work and give feedback at the same time, as well as SMAC's patented Soft-Land routine which gives extremely accurate sensing of product location or dimensions. The CBL35C includes a built-in controller and has peak force up to 22N and a maximum stroke of 25mm. The CBL50C includes a built-in controller and has a peak force up to 50N and a maximum stroke of 25mm. The LAL95 has a peak force of 195N and a maximum stroke of 50mm. The LCA50 has a peak force up to 110N and a maximum stroke of 50mm.
Actuators rated IP67 are commonly found in food- and beverage-handling equipment that requires frequent washdowns. In these cases, actuator protection requirements are particularly stringent because the equipment is often cleaned with aggressive detergents, as well as washed and rinsed with hot (180°F), high-pressure (1,500 psi) water spray or steam.
The IP (i.e., Ingress Protection) code rating is an internationally recognized system developed to standardize the degree of protection that enclosures provide against foreign objects, water, or materials entering into these enclosures.
An IP rating consists of the two letters "IP" for ingress protection, followed by two numbers and possibly a letter. The first number (0 through 6) indicates how effectively the device or component is protected against ingress by solids. The second number (0 through 8) indicates the protection level against liquids.
Featured Product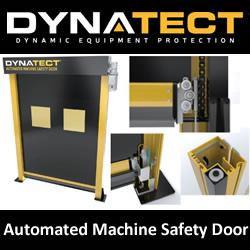 Dynatect's Gortite VF (Vertical Fabric) Automated Machine Safety Door is intended for automation and safe machine access to minimize cycle time and maximize production time. The automated roll-up door separates machines with hazardous operations from other processes, material handling equipment, and people. The Gortite VF Door contains typical machine/process generated hazards including light debris, fluid splatter/mist, and weld smoke/sparks/flash.