3D Printing Industry received more than 4,000 nominations for the awards, which had 20 categories.
CAMBRIDGE, Mass.--(BUSINESS WIRE)--Markforged, inventor of the world's first carbon-fiber and breakthrough Metal X 3D printers, today announced that the Mark Two won 3D Printing Industry's first annual Award Enterprise 3D Printer of the Year (FFF/FDM). The publication launched the awards earlier this year with the goal of highlighting achievements in the 3D printing industry.

3D Printing Industry received more than 4,000 nominations for the awards, which had 20 categories. After the judges determined the finalists, voting was opened up to readers online. 3D Printing Industry is a global media company providing a dedicated resource on news and trends in the 3D printing and scanning industries.
"At Markforged, our core mission remains to provide significant bottom-line results for our customers through strong parts that withstand challenging environments and to ultimately provide bottom-line results for our customers. In just one year, our Mark Two has become the de facto workhorse printer for professionals who want to quickly, cost-effectively print tools and functional parts," said Greg Mark, CEO, Markforged. "It's an honor to be recognized by the 3D printing community."
Markforged's Mark Two sits on a desktop, is a fraction of the cost of most industrial 3D printers, and delivers 20 times the strength of other plastics by printing a composite with continuous strands of carbon fiber. Users can also opt for reinforcement with Kevlar™ or high-temperature fiberglass for a range of properties. With the Mark Two, users have enjoyed a payback on their printer within two weeks in many cases, an average part cost savings of 95% and time savings of 80% over traditional processes to create tooling, fixtures and working prototypes. The Markforged benefit scales to unlock significant efficiency gains and faster time to market for manufacturers using multiple printers.
About Markforged
As one of the most well respected, innovative and rapidly growing 3D printing companies, Markforged's mission is to provide its customers with high strength parts, on the most reliable printers with the best materials. In 2014, Markforged revolutionized 3D printing with the introduction of the world's first carbon-fiber composite 3D printer. Today, Markforged's lineup of innovative printers in both composites and metal along with its Eiger cloud software are making strong parts for thousands of customers in over 50 countries around the world.
Markforged Industrial Strength 3D Printers produce mission-critical parts that solve real problems for their customers, and realize structures never before possible. For more information, visit www.Markforged.com.
Featured Product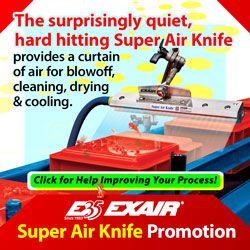 Reversible Drum Vac & High Lift Reversible Drum Vac - Pump 55 gallons in 90 seconds! Two-way pumping action! EXAIR's compressed air operated Reversible Drum Vac and High Lift Reversible Drum Vac attached quickly to any closed head 30, 55, or 110 gallon drum and can fill a 55 gallon drum in less than two minutes. With the simple turn of a knob, the same stainless steel pump quickly empties the drum. High Lift Drum Vac lifts up to 15 feet. Chip Trapper & High Lift Chip Trapper - Vacuums in liquid with solids and pumps out only liquid! Machine tools commonly discharge some chips and shavings into the coolant sump. The Chip Trapper and the High Lift Chip Trapper vacuums coolant or liquid that is filled with debris and traps all the solids in a reusable filter bag, leaving your coolant clean. High Lift Chip Trapper cleans with up to 15 feet of lift. See our current Promotion and all of the other Industrial Vacuums available.