Leader in automated additive manufacturing solutions wins prestigious innovator award
BOSTON, May 18, 2017 — (PRNewswire) — New Valence Robotics ( NVBOTS), the only provider of Built to Share™ automated 3D printing solutions, today announced that it was the recipient of the Smaller Businesses Association of New England (SBANE) New England Innovation Award. Previous winners of this prestigious award include iRobot, Staples, Ben & Jerry's and HubSpot along with 209 other past winners since 1986.

This year, 194 companies from every state in New England participated in the program and presented their unique idea, product or service from many industries. The list was narrowed down to 50 semi-finalist, and then 20 Finalists, before ultimately naming NVBOTS a winner in the Profit category.
"We are deeply honored to be recognized by SBANE for our additive manufacturing solutions," said AJ Perez, Chairman and Co-founder of NVBOTS. "We are confident that the strong tradition of SBANE identifying significant companies early in their development, like HubSpot and iRobot, will continue with NVBOTS."
About NVBOTS
The mission of NVBOTS® is to make enterprise 3D printing as easy as printing on paper. The company's NVPro 3D printer is Built to Share™. It offers the only automated part ejection in the industry (patent #US 9,289,946), and is paired with NVCloud software that allows users to easily print parts anytime, from any device - while providing administrators with full workflow control. These capabilities make the NVPro uniquely suited for continuous 24-7 operation in multi-user environments. NVBOTS is headquartered in Boston, MA. For more information, visit NVBOTS.com or follow us on Twitter @NVBOTS and on LinkedIn.
About SBANE
The Smaller Business Association of New England, Inc. (SBANE), founded in 1938, is a private not-for-profit association of approximately 600 member companies located throughout the six-state region. SBANE was established to provide a legislative voice for small business at the state and federal levels and to make practical information available to help business owners grow their companies. SBANE runs diverse, educational programs each year and has active chapters in Massachusetts and Rhode Island. The membership is characterized by a high degree of participation, reflected in a large and dynamic committee structure, addressing a range of topics from international trade to human resources. Visit SBANE at www.sbane.org.
Featured Product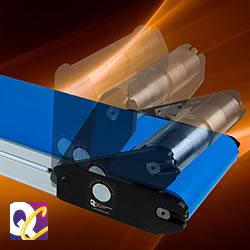 AS40 Conveyors are designed for ease of use and simple integration with robotic applications. Built on a rigid aluminum frame, they feature tee slots for rapid accessory mounting and a tail that flips up at the push of a button for easy under-belt cleaning and belt changes. Nosebar tails are available for transferring small parts between conveyors. All conveyors include a 10 Year Warranty and most are available with a fast five day lead time.