Why this shop floor device is crucial for manufacturing productions.
La Mesa, CA (April 21st, 2017) -

Reason 1 - Replace old floppy drives that are no longer working. Instead of paying a lot of money for a specialist to come and fix your floppy drive, simply slide the old floppy drive out of the machine in question and slide in this emulator. It requires no system configuration or debugging, and it will mimic the functions of your floppy drive as if it was still there.
This emulator work with nearly any existing 720k/1.44MB capacity DOS format floppy drive. 28 or 32 pin ribbon cables systems are supported & will connect to your existing power cable. Better yet - it has plug and play abilities with Haas machines.
Reason 2 - Eliminate the process of finding old media. When looking for floppy disks on reputable buying websites, prices for floppy disks can cost an unseemly amount compared to more modern data storage options like USB sticks. When you opt to buy them cheaper from independent sellers, you dont know if you are getting a legitimate product, or simply throwing your money away. For flea market wanderers - there are way more interesting things to discover at these events than hoping to find old floppy disks.
A one-time purchase of a floppy emulator means never having to seek out and overpay for this old media again. Also, 2010 onward is when manufacturers stopped producing floppy drives and floppy disks, so any of these products you are buying are either used or have been sitting on a shelf for quite some time.
Reason 3 - Unlike a floppy disk, this device has a wide set of abilities and compatibility. The floppy emulator works in PCs and CNC machinery such as Haas, Mazak, Fadal, Mitsubishi, Omniturn, Centroid, Robots, Flame Cutters, Greco boxes, and more. It has been tested on hundreds of models of machines and continues to be tested with even more controls on a daily basis.
You can also make your floppy drive emulator wireless with a device that plugs into the USB port and is able to share files with a specified shared network folder. The emulator will hold the same amount of data on a USB drive that a floppy disk could, but please note that it will not increase your drive space.
For more information on how the floppy drive emulator device works, plus other time and cost-saving measures for your shop, contact Shop Floor Automations directly.
This piece was written by Amanda Rosenblatt at Shop Floor Automations. Shop Floor Automations has been an expert in machining and manufacturing solutions for OEE and productivity enhancements since 1998. Call SFA for more info at (877) 611-5825 or visit their website at ShopFloorAutomations.com
Featured Product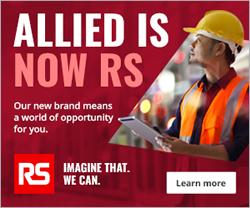 Become IoT Ready with RS PRO. Discover our new and extended range of sensors, data cables, HMI displays, network test equipment and more. RS PRO, our own brand, is here to support your IoT needs and help improve your operational efficiency. The RS PRO range of industrial IoT-enabling solutions from sensors, data cables and HMI displays to network test equipment will ensure you are IoT ready. View the full range of competitively priced products at rspro.com.