Phase 1 Technology, a vertically integrated distributor of high-performance machine vision and imaging system cameras and components, has been chosen as the premier certified distributor for Ricoh Factory Automation series of lenses in the United States.
Ricoh USA, Inc. has changed the distribution and support method of Ricoh FA products in North America. RICOH Industrial Solutions Inc. (RINS) in Japan will succeed Ricoh USA, Inc. As a result of this change, Phase 1 Technology is now the premier Certified Distributor in the USA representing Ricohs high-performance Factory Automation (FA) series of industrial camera lenses.

"Were honored Ricoh has chosen us as their premier Certified Distributor for their Factory Automation series of lenses," said Rusty Ponce de Leon, CEO of Phase 1 Technology. "Ricohs high-performance FA lenses allows us to offer our OEM, system integrator and end-user customers a high quality yet cost effective solution for a wide range of industrial applications."
Phase 1 Technology offers Ricoh C-mount, F-mount, and K-mount lenses. Featuring resolutions from 1.5 to 9 Megapixels, Ricohs FA series of lenses are designed for high-precision applications such as wafer inspection, robotics, and electronic pick and place machines.
More information about Ricoh industrial lens offerings and product specifications can be found at http://www.phase1vision.com/lenses/ricoh-lenses or by calling (631) 254-2600.
About Phase 1 Technology
Established in 1986, Phase 1 Technology Corp. is one of the oldest and most respected distributors of industrial vision and imaging cameras and components in the United States. A vertically integrated distributor of customer-tailored solutions with an extensive inventory of the industry's premier manufacturers of CCD and CMOS cameras, cables, image acquisition boards, lenses, lighting and software products, Phase 1 Technology offers all of the vital components used in the design and development of high-performance automation imaging systems. In addition to providing value-added programs that support engineering and manufacturing environments, Phase 1 Technology maintains an extensive network of highly-trained application specialists to ensure immediate response and consistent technical support for the duration of each project. Serving a wide range of industrial and commercial applications such as machine vision, microscopy, factory automation, robotics, agriculture, medical, pharmaceutical, UAV, and others, Phase 1 Technologys customers include OEMs, system integrators, end-users, researchers, developers, and scientists. Visit http://www.phase1vision.com/ or call (631) 254-2600.
Featured Product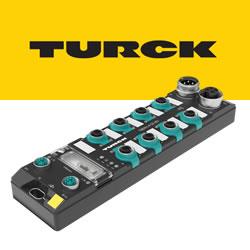 The new IP67 Managed Ethernet Switch from Turck provides standard and Gigabit ports in the same device. Configure, manage, and monitor connected machines and devices remotely, outside of a control cabinet. Find out more about this rugged solution for decentralized control. Part number TBEN-Lx-SE-M2. • Gigabit high-speed backbone for fast link-up times • Standard and Gigabit ports on the same device • Web-based diagnostic tools for preventive maintenance • Built-in security with the use of VLAN, NAT routing and firewall