Steelhead to Unveil Hydrogen Cylinder & Piston Accumulator Offerings
Golden, CO - Steelhead Composites is excited to debut their new hydrogen storage technologies as well as their patented piston accumulator offerings at the 2017 Hannover Messe in Hannover, Germany April 23-28.

" We are honored to be exhibiting our novel pressure vessels at the Hydrogen Fuel Cells Group Exhibit at Hannover Messe," said Andrew Coors, CEO of Steelhead Composites. "Steelhead's innovative approach to pressure vessel design, materials and manufacturing allows many industries, including automotive, oil & gas and defense, solutions that were currently not available."
Steelhead Hydrogen Storage Technology
"Steelhead has taken lessons learned through our innovations in lightweight fluid power to the gas storage market," said Kaushik Mallick, Director of Engineering. "
Steelhead Composites innovates gaseous H2 storage by integrating an economical thermal management system in the pressure vessels to allow for better fast fill, enhances safety with the integrated in-tank regulator and provides structural health monitoring for continuous feedback on the safety of the vessel.
Steelhead Piston Accumulator Technology
Piston accumulators are a staple in hydraulic applications, but are notoriously heavy and expensive. The new generation of mobile applications demand accumulators that can provide higher power and energy storage densities. A common challenge is to have enough gas volume stored to have exceptional energy density without a gas back up bottle for assistance.
"Steelhead's patented piston accumulator design is unique in providing the functionalities of piston accumulators and gas back up bottle in one product and is still the fraction of the weight of steel piston accumulators," said Kaushik Mallick, Director of Engineering. "Our piston accumulator will be ideal in situations where the application requires additional gas volumes to achieve the required power output."
About Hannover Messe
HANNOVER MESSE provides a complete picture of the industrial value-adding chain under one roof - from individual components to the complete intelligent factory, as well as topical trends such as energy efficiency, lightweight construction, and additive manufacturing. The conference anticipates 6,500 international exhibitors while offering more than 1,700 lectures & panels. All key technologies and core areas of industry - from research and development, industrial automation, IT, industrial supply, production technologies and services to energy and mobility technologies - can be found at Hannover Messe.
About Steelhead Composites
Steelhead Composites is a world class advanced manufacturing company, based in the heart of Golden, Colorado (USA). Steelhead is dedicated to the design and manufacturing of specialty lightweight hydraulic components and composite pressure vessels to be used for weight-sensitive energy and fuel storage applications. Our specialties include lightweight bladder, diaphragm and piston accumulators, mobile CNG fuel storage and transport, gas bottles, aluminum liners and accessories. We also offer a full array of technical services in vessel design, metal spinforming, filament winding, prototyping and testing of high pressure vessels.
For more information, visit www.steelheadcomposites.com.
To book an appointment, visit http://steelheadcomposites.com/about/lunch-learn/
Featured Product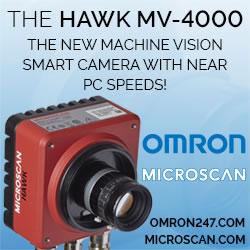 Awe-inspiring power and superior flexibility is sheathed within the contoured casing of the HAWK MV-4000. This smart camera builds upon the previous generation by quadrupling processing power and achieving real-time trigger response using an FPGA. Its state-of-the-art algorithms make it an excellent tool for any industry, whether the requirement be code reading, code verification, inspection, guidance, gauging or a combination of all four.