Plan is designed to increase opportunity and profitability for partners, highlighting a significant commitment to technical support and channel growth.
Glenville, NY: Today, Applied Robotics, Inc., a leading global provider of robotic end-of-arm tooling and connectivity solutions, launched a new channel program, designed to help partners fully leverage its expanding portfolio of solutions. The new program will help partners keep pace with the rapid rate of technological change and increase their competitiveness in the robotics marketplace. With the innovative Applied Robotics Solution Provider (ARSP) program, partners will be equipped to realize faster revenue growth. The new program will offer simplified certification, an attractive and easy to understand revenue model, dedicated support and new incremental benefits and incentives.

ARI will focus on helping our Solution Providers drive higher satisfaction, confidence and loyalty with their customers, and, in turn, realize significant year-over-year revenue. ARI recognizes that the key to continued and sustainable partner growth is enablement, and the new program is designed to optimize and invigorate joint customer engagements between channel partners and the ARI Sales team.
"The new Applied Robotics Solution Provider (ARSP) program will be instrumental in shaping our future success.," said Bernie Mucitelli, Director of Business Development for ARI. "Through our new program, we will help partners differentiate themselves from their competition, grow their business as well as assuring our shared customers experience higher satisfaction and optimal returns from their product investment." The ARSP plan launches at Automate 2017, with the new program taking effect immediately.
For more information, visit Applied Robotics, Inc. this April 3-6 at booth #1262 or at their website www.appliedrobotics.com
About Applied Robotics, Inc.: Applied Robotics, Inc., headquartered in Glenville, NY, is a leading global provider of robotic end-of-arm tooling and connectivity solutions; specializing in tool changing, collision detection, and gripping applications. Applied Robotics provides industry and application specific solutions to the most challenging problems.
With over thirty years of experience engineering complex robotic and automation equipment, Applied Robotics was the first company to develop automated tool changers and continues to engineer state-of-the-art solutions allowing our customers to stay at the forefront of their respective industries all over the world.
Featured Product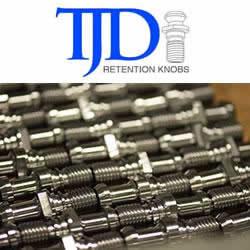 Our retention knobs are manufactured above international standards or to machine builder specifications. Retention knobs are manufactured utilizing AMS-6274/AISI-8620 alloy steel drawn in the United States. Threads are single-pointed on our lathes while manufacturing all other retention knob features to ensure high concentricity. Our process ensures that our threads are balanced (lead in/lead out at 180 degrees.) Each retention knob is carburized (hardened) to 58-62HRC, and case depth is .020-.030. Core hardness 40HRC. Each retention knob is coated utilizing a hot black oxide coating to military specifications. Our retention knobs are 100% covered in black oxide to prevent rust. All retention knob surfaces (not just mating surfaces) have a precision finish of 32 RMA micro or better: ISO grade 6N. Each retention knob is magnetic particle tested and tested at 2.5 times the pulling force of the drawbar. Certifications are maintained for each step in the manufacturing process for traceability.