EIT Digital's Digital Industry Action Line is launching a new activity, iLEVATOR, which will develop a modular and plug-and-play platform for intralogistics designed to enhance human-robot collaboration.
iLEVATOR a new Innovation Activity launched by EIT Digital's Digital Industry Action Line, was devised with the goal of developing a modular and plug-and-play platform for intralogistics that will integrate mobile and fixed robots. At the same time it will also ensure the central role of human workers for value-added activities and guaranteeing safe human-robot collaboration.

The business champion for the initiative is Turin-based company COMAU, a member of the FCA Group and a recognised leader in delivering advanced industrial automation solutions.
Together with a team of several partners - which include CRF, FBK, DKFI, Fraunhofer-IML, the University of Edinburgh, Reply and Fortiss - COMAU will develop a solution targeted at sectors where there is a need to handle components and that would benefit from mobile robots carrying out more non added-value tasks, such as picking and moving empty containers from the warehouses to the line side or vice versa.
COMAU's Product development manager Simone Belardinelli explains:
"The factory of the future is often envisioned as being largely autonomous, with many tasks being completely automated and given over to robots. The reality however, will probably be much more complex and nuanced. In logistics, there are many activities that do not provide real added value. Therefore ergonomics studies can lead to the development of solutions which are not meant to replace the human operator but, rather, to increase his or her effectiveness."
The new Activity builds on a previous initiative, also supported by EIT Digital, called iLAADR - also designed to streamline the process of preparing and delivering material organised in kits to factory product lines. However iLEVATOR will build on this functionality to include specific tasks, such as the substitution and replenishment of empty material storages.
The iLEVATOR solution will first be implemented in FCA factories, but COMAU will also support the industrial dissemination in markets beyond the automotive sector. By adopting the iLEVATOR solution, manufacturing industries, hospitals and pharma firms and retail companies, in particular, will be also able to optimise their internal logistics processes.
Featured Product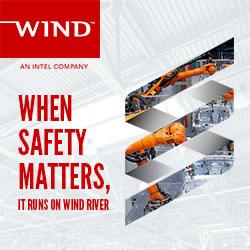 When it comes to ensuring the development of can't-fail systems, Wind River® is a leader with a proven track record of success. With more than 30 years of experience in embedded software and a portfolio of products deployed across more than 2 billion devices, Wind River delivers safety and security when it counts most. From industrial automation to automotive systems, as well as in healthcare devices, railway operations, and throughout the aerospace and defense sector, Wind River has extensive expertise providing built-in safety for complex, connected, safety-critical systems.