Global Imaging, which recently secured North American distribution rights for the Massivit 1800 3D Printer, will be offering demonstrations in its onsite Workflow Studio
Global Imaging is a grand format printing solutions provider, curating exceptional devices to the industry for more than 20 years. The company recently secured distribution rights for the Massivit 1800 3D Printer and the Dimengel print material, to all printing segments in the US and Canada.

The Massivit 1800 3D Printer, with its unique GDP: Gel Dispensing Technology, creates three dimensional objects nearly 6'x5'x4' in size. This type of oversized 3D printing is the first 3D printer dedicated to the grand format printing industry and is expected to transform workflow for demonstrative props - and will be particularly of interest to firms working on retail, branded environments, and special events marketing.
In addition to being a distributor in North America for the Massivit 1800, Global Imaging will also be the first in North America to offer on-site demonstrations in their Workflow Studio demonstration facility
CEO of Global Imaging Greg Lamb describes the device as "A great complement to what Global Imaging already offers. We expect the Massivit 3D technology to cause a significant disruption in the industry, a disruption that will generate a lot of opportunity for grand format companies that are ready to make the leap to oversize 3D printing."
Global Imaging will be unveiling the Massivit 1800 demonstration unit and Dimengel technology at their first VIP event of the year, on March 1st-2nd. The event will be held in the company's onsite Workflow Studio, the only venue in the US where customers can see and interact with a full grand format workflow. The first two days of the event will focus on end-to-end processes from prepress to sewing and finishing, and the third day will be dedicated to 3D printing demonstrations on the Massivit 1800. To receive an invitation, contact Global Imaging through their website.
About Global Imaging
Global Imaging has been the leading integrator of wide and grand format printing systems and supplies since 1995. Through its comprehensive portfolio of brands, it provides a complete array of products, services and the technical expertise needed for strategic business solutions and profitability in the wide and grand format printing industry. These brands include Global Garage, Parts Depot, Panoply Finance and PrinterEvolution. Global's 6500 sq. ft. Workflow Studio is the only demonstration area in the country that emulates an entire grand format production facility with the most current and cutting-edge products available.
Featured Product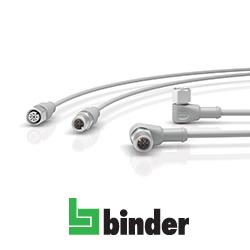 binder USA, LP, has expanded the M12 product family with the addition of the M12 A-Coded Connector, which is now certified for both Ecolab and FDA Code of Federal Regulations (CFR) Title 21 standards. The M12 A-Coded connectors are extraordinarily durable and IP69K-rated, ideal for harsh-duty and washdown applications in the food and beverage, pharmaceutical, and chemical industries. Available in 3, 4, 5, 8, and 12 contacts, the high quality stainless steel locking rings (V4A) and gold contact plating can also withstand UV exposure and shock and vibration.