Agreement will focus on streamlining and simplifying the design to additive manufacturing process
LEUVEN, Belgium--(BUSINESS WIRE)--Materialise NV (Nasdaq:MTLS) announced today that it has signed an agreement with Siemens' product lifecycle management (PLM) software business, to help create a seamless process for designing and manufacturing parts using additive manufacturing technology. Through this agreement, the two companies will work together to integrate Materialise's industry-proven AM software technologies with Siemens' digital solutions.

Materialise collaborates with Siemens to advance additive manufacturing.
Tweet this
Siemens and Materialise are technology leaders who share the vision that Additive Manufacturing will revolutionize the industry. The two companies have been working closely together for several months to explore the integration of Siemens' world-leading PLM software with best-in-class Materialise additive manufacturing (AM) technology in order to accelerate the adoption of 3D Printing for industrial production.
"This agreement will bring together a set of solutions from Siemens and Materialise that will optimize and simplify customer operations within the industrial landscape. We've been in the additive manufacturing business for more than 25 years and our open and neutral backbone of solutions has improved and helped to push the boundaries of the technology. Today we can say that Additive Manufacturing is a reality even in highly regulated markets such as aerospace and medical applications," stated Stefaan Motte, Vice President of Software at Materialise. "We are really glad to partner with players of stature such as Siemens, who truly understand large-scale industrial manufacturing environments."
"Additive manufacturing is one of the critical components of the Digital Enterprise transformation taking place right now in the global manufacturing industry," said Zvi Feuer, Senior Vice President, Manufacturing Engineering Software, Siemens PLM Software. "By partnering with AM leaders like Materialise, we are providing the digitalization tools that will help enable this transformation."
Details about this agreement and the specific solutions and benefits resulting from it will be announced by Siemens and Materialise later this quarter.
Watch the video: How will Additive Manufacturing change the manufacturing industry? - Andreas Saar, Vice President Manufacturing Engineering Solutions at Siemens PLM Software.
About Materialise
Materialise incorporates more than 25 years of 3D printing experience into a range of software solutions and 3D printing services, which together form a backbone for the 3D printing industry. Materialise's open and flexible solutions enable players in a wide variety of industries, including healthcare, automotive, aerospace, art and design, and consumer goods, to build innovative 3D printing applications that aim to make the world a better and healthier place. Headquartered in Belgium, with branches worldwide, Materialise combines the largest group of software developers in the industry with one of the largest 3D printing facilities in the world.
www.materialise.com
About Materialise Software
Materialise Software provides companies with a platform of tools that manage and control the 3D printing process more efficiently, allowing them to meet the highest standards of the most demanding industries. The software solutions in the Materialise Magics 3D Print Suite are open by nature, empowering co-creation and collaboration between different players in the 3D printing and manufacturing eco-system. The Powered-by-Materialise program allows partners of Materialise to tap into these solutions, providing the industry a solid foundation to expand and grow.
www.software.materialise.com
Featured Product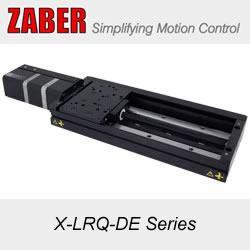 Zaber's X-LRQ-DE Series of linear stages have high stiffness, load, and lifetime capabilities in a compact size. The integrated linear encoder combined with stage calibration provides high accuracy positioning over the full travel of the device. At 36 mm high, these stages are excellent for applications where a low profile is required. The X-LRQ-DE's innovative design allows speeds up to 205 mm/s and loads up to 100 kg. Like all Zaber products, the X-LRQ-DE Series is designed for easy set-up and operation.