Reed Japan Exhibitions is introducing first Expo for Industrie 4.0 / Industrial Internet Technologies for "Smart Factory".
All kinds of technologies and solutions for smart factory will be exhibited in Tokyo

"1st SMART FACTORY Expo" Exhibition for Industrie 4.0 / Industrial Internet Technologies
Dates: January 18 [Wed] - 20 [Fri], 2017, Venue: Tokyo Big Sight, Tokyo, JAPAN
Supported by: Robot Revolution Initiative (RRI) / Industrial Value Chain Initiative (IVI)
According to the Japanese Market reports, the diversification of demands are growing in digitization of products and services, leading to modernization of production processes in domestic market, thus requiring innovation and diffusion of Smart technologies in Manufacturing to achieve a new generation of industrialization with in Japan.
Driven by the modern concept of IOT, Smart Factory , e-factory, industry 4.0 , Japanese companies appear to be dedicated to inventing new technologies and tools to enhance automation to ensure progress in the industrial sector. As the consequence of it, there are numerous ventures popping in IOT sector and as well existing and Technology giants have been showing up with techniques and technologies to enhance the Smart factory operation, support and production process for leaping the factories to fully for complete new smart things.
Following Japanese companies who are also member of Japan`s Robot Revolution Initiative are also seen introducing many products and services for enabling the trend. Mitsubishi Electric Hitachi, Fujitsu NEC, Mitsubishi Heavy Industries,Kawasaki Heavy Industries, IHI, Hitachi Zosen, apart from Automotive OEM`s a wide range of manufacturing-related 75 plus companies various organizations are already gaining the market share. 3D -Additive manufacturing is also embarking in Japanese factories to make complex products directly from 3D models using simple and largely automatic procedures. Additive manufacturing is becoming both cheaper and more effective.
Next-generation factory where advanced FA, IoT and energy saving systems are installed. It realizes more efficient and cost-effective production with such systems. All kinds of technologies and solutions for smart factory will be exhibited! "1st SMART FACTORY Expo" will be a very business-oriented exhibition where exhibitors can actively have business discussions with visitors.
All Global Companies in this domain are welcome to participate as exhibitor and or visitor to explore business opportunities Japan market has to offer in this domain.
Featured Product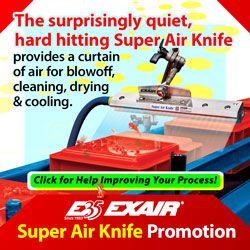 What Is The Super Ion Air Knife? EXAIR's Super Ion Air Knife removes static electricity from plastics, webs, sheet stock and other product surfaces where tearing, jamming or hazardous shocks are a problem. The laminar sheet of air sweeps surfaces clean of static, particulate, dust and dirt. Production speeds, product quality, and surface cleanliness can improve dramatically. Why The Super Ion Air Knife? The Super Ion Air Knife floods an area or surface with static eliminating ions - up to 20 feet (6.1m) away. A uniform airflow across its length will not cause misalignments to critical surfaces such as webs. Force can be adjusted from a "blast" to a "breeze". The Super Ion Air Knife is electrically powered, is shockless and has no moving parts. It also requires only 3.7 SCFM of compressed air per foot of length at 5 PSIG (105 SLPM per 300mm of length at 0.3 BAR). Sound level is surprisingly quiet at 50 dBA for most applications.