Visit the Xilinx Stand in Hall 4, 249 at SPS IPC Drives 2016, November 22-24, at Nuremberg Messe.
SAN JOSE, Calif., Nov. 17, 2016 /PRNewswire/ -- Xilinx, Inc. (NASDAQ: XLNX) will showcase the latest Industrial IoT (IIoT) solutions with its All Programmable hardware, software development environments, comprehensive IP portfolio, and system-level expertise at SPS IPC Drives 2016. Xilinx's system architects and Alliance Members will demonstrate differentiated, highly integrated, and system cost optimized solutions for Motor Control, Multilevel Inverters, Industrial Networking, Machine Vision, and Functional Safety/Security applications. Visit the Xilinx Stand in Hall 4, 249 at SPS IPC Drives 2016, November 22-24, at Nuremberg Messe.

Xilinx and Ecosystem Demonstrations - Hall 4,249
All Programmable Industrial Control System - Presented by Xilinx and BE.services
This demonstration will showcase an Industrial Control System (ICS) that highlights the All Programmable capabilities of the Zynq® SoC and Zynq® UltraScale+™ MPSoC devices for Industry 4.0 automation. It is a preconfigured, fully functional ICS, which can be customized and extended without compromising determinism, enabling differentiation and faster time to market.
Zynq-7000 Functional Safety Reference System - Presented by Xilinx and Ikerlan
This new reference system on the Zynq SoC showcases two safety channels with fault injection capabilities that enable comprehensive Functional Safety verification. This demonstration will present this solution as a template for single-chip custom safety solutions, reducing the BOM cost of a safety design.
IO-Link Sensor Integration for Big Data Analytics - Presented by SoC-e
In this demonstration, Zynq SoCs and Zynq Ultrascale+ MPSoCs will form a high availability and time-aware network with gateway functions and direct sensor interfaces. Data processing throughout both devices allows for greater integration of more functions in a common unit that reduces the cost and size of the solution by making the dedicated gateway hardware obsolete.
Software Defined / Hardware Accelerated Radar Signal Processing - Presented by Ruhr University Bochum
The demonstration highlights the advantage of using the SDSoC™ Development Environment for industrial control. It displays a levitating iron ball in a magnetic field with continuous position monitoring. Control loops are developed in software and are moved to the programmable logic portion of the Zynq device with SDSoC to achieve the fastest FFT to run a Frequency-Modulated Continuous Wave Radar application for position detection.
High Performance Silicon Carbide Three-Level Inverter - Presented by QDESYS
This demonstration showcases a three-level inverter with twelve modulators and fast parallel control loops in the Zynq SoC. The reference board utilized in this demonstration includes Silicon Carbide power stages in a small form factor that allows for higher switching frequencies, lower EMI, lower losses, and up to 40% higher output power compared to standard two-level inverters.
Industrial Networking and IIoT Connectivity - Presented by Avnet
In conjunction with Avnet, Xilinx will showcase the Avnet Industrial IoT Starter Kit which exhibits sensor-to-cloud connectivity and the Avnet Industry 4.0 Ethernet Kit, which supports four popular industrial Ethernet protocols with the Anybus IP from HMS.
Xilinx Alliance Program Members at SPS IPC Drives 2016
This year, Xilinx Alliance Program members will demonstrate at SPS IPC Drives 2016 including:
Avnet - Exhibiting in the Xilinx booth, Hall 4, 249
Beckhoff Automation GmbH - Hall 7, 406
B&R Industrie-Elekronic - Hall 7, 114 and 206
EtherCAT Technology Group - Hall 2, 338
Ethernet Powerlink Standardization Group - Hall 2, 410
Green Hills Software - Hall 6, 201
HMS Industrial Networks - Hall 2, 438
Ikerlan - Exhibiting in the Xilinx booth, Hall 4, 249
National Instruments - Hall 7, 381
QDESYS - Exhibiting in the Xilinx booth, Hall 4, 249
Port GmbH - Hall 2, 331
Prodrive Technologies B.V. - Hall 4, 570
Softing - Hall 7, 580
System-on-Chip Engineering S.L. - Exhibiting in the Xilinx booth, Hall 4, 249
The MathWorks - Hall 7, 206 and 450
About Xilinx
Xilinx is the leading provider of All Programmable FPGAs, SoCs, MPSoCs, and 3D ICs. Xilinx uniquely enables applications that are both software defined and hardware optimized - powering industry advancements in Cloud Computing, Embedded Vision, Industrial IoT, and 5G. For more information, visit www.xilinx.com.
Featured Product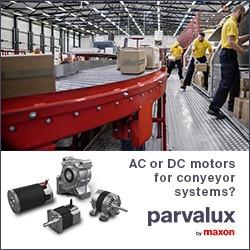 An effective, reliable and efficient drive system is essential to any material handling equipment, whether it's a motor-assisted tow truck, a barrel lifter, a robotic vehicle or a complete high-capacity parcel sorting hub; Parvalux designs and manufactures an exciting range of AC, DC brushless and brushed motors and our drives are valued for their performance and reliability.