Integrated Cellular Communication Platform provides flexible, scalable connectivity for best-in-class Industrial Internet of Things solutions
NEWARK, N.J., Nov. 17, 2016 (GLOBE NEWSWIRE) -- Arkados Group, Inc. (OTC:AKDS), a leading software developer and system integrator enabling Internet of Things ("IoT") applications, today announced that the Company has signed an agreement with Airfi Networks ("Airfi") to integrate Airfis advanced cellular connectivity solutions via SIMs, connected network and machine-to-machine (M2M) communication platform, into customer devices and systems that require around the clock communication, monitoring and data gathering such as machine management and measurement and verification, just to name a few.

Airfis M2M platform has simple APIs and a web based portal for the management of devices and SIM cards worldwide. Network access is managed centrally and SIMs are updated over the air for seamless network access. Once a SIM is integrated into a system, the customers mobile devices will then be able to establish communication between the system and the customers chosen central application servers using Airfis SIM and connected networks, and transmit data on the system almost immediately.
Terrence DeFranco, Chief Executive Officer of Arkados Group, Inc., commented," Airfi is an affordable, trusted provider of managed cellular connectivity solutions for IoT globally, and our top choice as a partner. In over 206 countries and with over 450 networks worldwide, not only is their platform more affordable than the rest, Airfi is known to work well with their technology partners and manufacturers to bring great connectivity, service and support to customers. We couldnt be more pleased to work with their superior engineering and support teams, and to continue delivering only the best-in-class M2M communication and IoT solutions to our commercial customers devices and systems at the lowest possible cost. We believe that the addition of cellular communication to our portfolio of capabilities can drive significant sales of our Industrial Internet of Things solutions."
In a November 2015 press release, Gartner estimates that the Internet of Things (IoT) will support total professional services (defined as external providers that design, install and operate IoT systems for businesses under contract) spending of $235 billion in 2016, up 22% from 2015, and that connectivity services (through communications service providers) and consumer services will grow at an even faster pace. Another more recent Gartner report estimates IoT deployment in commercial buildings is on track to reach just over 1 billion in 2018.
According to Goldman Sachs, there are currently 12 billion devices connected to the Internet of Things and the amount can surge to 30 billion by 2020, largely driven by advances in cellular connectivity.
About Arkados Group, Inc.
Arkados Group, Inc. through its subsidiaries, is a leading software development and system integrator enabling Internet of Things applications for home and building automation and energy management. The Company's solutions are uniquely designed to drive a wide variety of wireless and powerline communication (PLC)-based products, such as sensors, gateways, video cameras, appliances and other devices. By utilizing the Company's solutions, Arkados' customers can bring numerous sophisticated, full-featured products to market faster at a lower overall development cost. Arkados® is a registered trademark of Arkados Group, Inc. For more information about Arkados, please visit: http://www.arkadosgroup.com.
Featured Product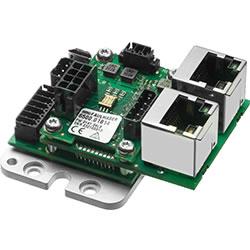 MOTION CONTROLLERS FOR MINIATURE DRIVES AND MICRODRIVES. FAULHABER has added another extremely compact Motion Controller without housing to its product range. The new Motion Controller is ideal for integration in equipment manufacturing and medical technology applications. With 36 V and 3 A (peak current 9 A), it covers the power range up to approx. 100 W and is suitable for DC-motors with encoder, brushless drives or linear motors.