Radley Corporation announces participation at international packaging trade show in Chicago, IL
GRAND RAPIDS, Mich., Oct. 28, 2016 /PRNewswire/ -- Radley Corporation, a global software solutions provider announced they will be exhibiting at PACK EXPO International, the world's largest processing and packaging show, taking place November 6th through the 9th at Chicago's McCormick Place. This will be Radley's first time exhibiting and we are excited to share with the packaging industry how their flexible software helps manufacturers overcome challenges such as label compliance, traceability and environmental impact.

Finding sustainable solutions economically to meet customer, industry and government standards while maintaining profitability is a major concern felt throughout the supply chain. By identifying areas that can be consolidated, automated and streamlined, Radley helps manufacturers significantly increase efficiency and visibility into various operations whether manufacturing food and household goods or the materials they are packaged in.
With Radley You Can
Perform Wave/Directed/Consolidated Picking
Create Customer Compliant Labels
Automate Task Management
Comply with Customer/Supplier EDI
Track Containers and RTI's
Maintain Lot/Serial Traceability
Radley's robust solution platform of MES/WMS & EDI software provides flexible and configurable options for manufacturers who are either looking to enhance existing ERP and business systems or searching for a stand-alone solution to meet specific requirements such as Global Food Safety Certification (GFSI), GS1 labeling, DSCSA and more. Without sacrificing profitability, quality can be improved and operating costs decreased all while maintaining compliance. Don't wait until you're in the busy exhibit hall! Learn more now about Radley and download information about their platform of solutions. Discover why you should stop by booth E-10641 to chat with the Radley team when you're in Chicago!
About Radley Corporation
Through a combination of consulting, software & hardware configuration, training and support; Radley has provided solutions for over 40 years to organizations around the world looking to improve their business logistics processes. Talk to a Product Specialist at 616-541-6010 or visit www.RADLEY.com today.
Featured Product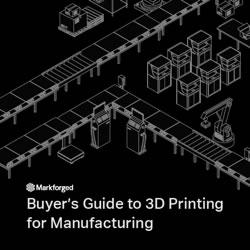 3D printing has become a powerful force in today's manufacturing industry from prototyping to tooling and fixtures to custom, end-use parts. Many businesses struggle to find the right solutions to fit their needs and provide ROI. Selecting the right platform to prevent manufacturing roadblocks is vital to optimizing your manufacturing line productivity. Download the all new buyer's guide to help you evaluate the benefits of 3D printing and dispel misconceptions, understand the pros/cons of various 3D printing processes and materials, and assess the key considerations in selecting a 3D printer.