Visit Booth E-10000 to view easy to clean pump ideal for high viscosity food product handling
Watson-Marlow Fluid Technology Group (WMFTG) is showcasing its new MasoSine Certa™ Sine® pump in booth E-10000 at PACK EXPO International, which will be held November 6-9, 2016 at McCormick Place, in Chicago, IL. Ideal for high viscosity food product handling with low shear and zero pulsation, the MasoSine Certa™ pump on display is extremely easy to clean for minimal maintenance and downtime.

Offering 3A and EHEDG Type EL Class I certification, the Certa pump significantly minimizes cleaning time, resulting in a more efficient production procedure. The faster cleaning time also reduces chemical and water use, reducing wastewater requiring disposal.
The innovative Certa pump delivers high suction capability to handle viscous products and offers significant advantages over alternative technologies. Unlike traditional pumps with rotors that cut through the fluid, Certas sinusoidal rotor gently carries fluid through the pump to dramatically reduce shear while cutting power consumption by up to 50 percent with high viscosity fluids.
The Certa product range offers users a fully clean-in-place (CIP) capable pump at flow rates up to 436 gallons per minute. Users can be assured that media is pumped safely and without degradation. Along with pumping such high viscosity products as frozen orange juice, deli salads and bakery produce, the new Certa pump series is also an excellent solution for other food and beverage and cosmetics, and for any facility that requires the highest cleaning standards.
Gentle pumping with virtually no pulsation, superior viscous handling, simplicity, reliability, energy efficiency, interchangeable parts and low cost of ownership all help food and beverage plants compete in a highly competitive marketplace.
Featured Product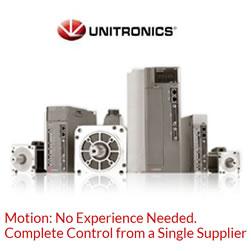 Unitronics' line of AC Servo Drives & Motors changes the traditional approach to motion control. They are simple to set up and painless to program. Unitronics Servos simplify implementation of motion applications while minimizing complexity and reducing development time. Some of the easy-to-use features in this new line include implementing motion control easily with ready-made motion code, embedded diagnostic tools, and automatic communication setup.