Company emerges out of stealth mode with two customers.
3DSignals, an innovator in sound-based predictive maintenance systems, today announced it raised a $3 million seed round led by Grove Ventures and additional investors to expand operations and target the U.S. market. 3DSignals develops and offers a proprietary hardware and software platform that allows maintenance engineers and technicians to listen to their machines with remote ultrasonic sensors, anticipate problems with real-time alerts, and prevent critical failures with predictive analytics.

3DSignals identified and harnessed the potential to combine the natural diagnostic value of airborne electro-mechanical acoustics and IIoT all-encompassing connectivity. Since its founding in 2015, 3DSignals has won several significant customers, amongst them a European renewable energy company, monitoring hydroelectric plants, and secured production line monitoring contracts with MacSteel International, one of the largest international steel conglomerates engaging in worldwide trading and processing of steels and metals. 3DSignals' platform has already proven a drop in human operating errors, extension of perishable part lifespan, reduction in broken parts, and an increase in production efficiency.
"Sound is the most intuitive sense used by engineers to diagnose machine problems and understand if something is working properly or not," said Amnon Shenfeld, CEO of 3DSignals. "While technicians and engineers have been listening to machines for years, the ability to use acoustics to simultaneously monitor the condition of multiple pieces of industrial equipment and access this information at any time from any location has never been available in a comprehensive system. We see great applications of this technology across multiple industries, and this funding will enable us to continue our momentum as we launch out of private beta."
3DSignals' patent pending system includes ultrasonic sensors powered by deep learning neural network software that detects anomalies in the sound that machines make while they are running. The platform's predictive analytics software processes these sound signals and aggregates the data, providing users with real-time alerts and access to live sound streams and reports 24/7 on desktop or mobile from any remote location. 3DSignals specially developed the sensors for harsh industrial environments and use highly directional microphones to filter out ambient noise. The system, which was designed with the highest security standards, can be deployed in minutes and requires only a power supply and network access.
"There's a reason we designed not just the software but also the hardware in-house. There are no industrial grade, contact-less, directional ultrasonic sensors out there designed for industrial condition monitoring and deep learning applications, so we had to build them," added Amnon.
With advancements in industrial automation, IIoT (industrial internet of things), and deep learning algorithms, there's a growing demand for predictive maintenance technology (hardware and software) that helps keep equipment running at optimal performance, identifies potential problems in real time, and allows engineers to prevent the truly significant problems.
"Modern improved sensing capabilities combined with artificial intelligence are creating opportunities to change many industry verticals," said Lotan Levkowitz, 3DSignals board member and Partner at Grove Ventures. "3DSignals' team brings unique expertise in deep learning around acoustics into the industrial IoT space, and they've been able to transform proprietary acoustic data into meaningful insights and clear and quick ROI for various traditional industries."
3DSignals is applicable to a broad range of use cases for remote monitoring of industrial and manufacturing plant equipment such as production line machinery, cutting equipment, hydroelectric generators, wind turbines and other machines such as hydraulics, motors, compressors, robotics, bearings, and gearboxes. For more information about how you can benefit from 3DSignals, visit http://3dsig.com.
About 3DSignals
Founded in 2015, 3DSignals pioneered the application of sound-based predictive maintenance for industrial and manufacturing equipment. Using the company's proprietary hardware and deep learning software system, 3DSignals customers can listen to their machines with ultrasonic sensors, anticipate problems with real-time alerts, and prevent critical failures with predictive analytics. The company is headquartered in Kfar Sava, Israel. For more information, visit http://3dsig.com.
About Grove Ventures
Grove Ventures is a team of entrepreneurs, company builders and experienced investors. With a direct approach and global experience, Grove Ventures provides Israeli early-stage startups all the support needed to become market leaders, from inception through growth. Grove Ventures invests in entrepreneurs and startups focusing on technology dealing with IoT, cloud, and big-data. For more information, visit http://grovevc.com.
Featured Product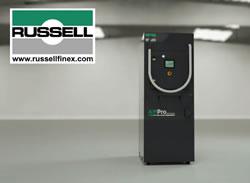 The Russell AMPro Sieve Station™ guarantees the quality of your additive manufacturing (AM) powder, and has been designed to provide optimum sieving efficiency, ensuring your powder is ready for use or reuse as and when you require it. With a simple one-button operation and mobile design, this automated check screener ensures your powder at every stage of the process is qualified for use quickly and safely. The flexibility of the Russell AMPro Sieve Station™ means you can use the system for numerous powder handling tasks - being a modular design ensures the machine can be configured to meet your exact requirements.