Pre-defined Intelligent Mechatronic Solutions for Roller and Chain Conveyors
UXBRIDGE, MA -September 29, 2016 - A global leader and manufacturer of electrical and mechanical drives, motion control and automation technologies, Lenze Americas delivers out-of-the-box Smart Product solutions for easy commissioning and operation of roller and chain conveyors.

"Intelligent Lenze Smart Products, combined with a smartphone, provide a very user-friendly solution," states Joel Thomas, industry manager - intralogistics, Lenze. "Instead of agonizing over conveyor drive choices, these predefined smart drive solutions for conveyor systems give our customers the freedom to select, unpack, install—and go!"
Lenze Smart Products deliver a superior mechatronic drive solution for clearly specified roller and chain conveyor applications. Drive selection, definition, installation and parameter setting are made easy for machine builders and operators. Lenze has streamlined the process of defining the conveying system, selecting the installation version, and fixing the payload. Smart Product solutions are supplied with engineering documentation and design of ready-made modules, including CAD blueprints, dimensioned drawings, and EPLAN macros for easy integration by machine builders.
Integrated Smart Product units, with built-in intelligence, can be paired with a smartphone for remote authenticated user access in Industry 4.0 initiatives. An intuitive and user-friendly Lenze smartphone app enables easy selection of the motor fixed speed and total freedom in gearbox torque variation for virtually limitless expansion of a single drive type. Engineered for easy installation and maintenance, Lenze Smart Products are available in outline and inline versions covering six payload classes ranging from 2,200 to 11,460 lbs. Built on parameterized programming technology, the universal drive tools incorporate Industry 4.0 mechanisms to simplify kinematic programming and expedite deployment of conveyor systems.
To learn more about Lenze Smart Products, visit this link: http://www.lenze.com/en-us/products/lenze-smart-products/
###
About Lenze Americas
Lenze is a global manufacturer of electrical and mechanical drives, motion control and automation technology. As a global specialist in Motion Centric Automation, we offer our customers products, drive solutions, complete automation systems, engineering services and tools from a single source. We are a leading provider of automation solutions to the packaging industry, and our other focus industries include automotive, material handling and logistics, robotics, and commercial pumps/fans. With a global network of engineers, sales representatives, and manufacturing facilities, Lenze is well-positioned to meet the motion control needs of customers worldwide. Lenze Americas, the American subsidiary of Lenze SE of Germany, is headquartered in Uxbridge, Massachusetts, with an assembly and logistics center in Glendale Heights, Illinois. Corporate global headquarters are in Hamelin, Germany. Visit www.Lenze.com for more information.
Featured Product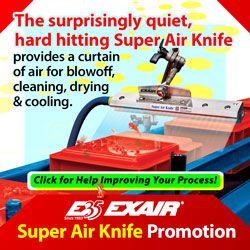 EXAIR Cabinet Cooler® Systems are a low cost, easy to install, maintenance free way to cool and purge electronic control panels. EXAIR Cabinet Coolers incorporate a vortex tube that produces cold air from ordinary compressed air - with no moving parts. The compact Cabinet Cooler can be installed in minutes through a standard electrical knockout. NEMA 12, 4, and 4X (IP54 and IP66) Cabinet Coolers that match the NEMA rating of the enclosure are available in many cooling capacities for large and small control panels. NEMA 12 Cabinet Coolers are ideal for general industrial environments where no liquids or corrosives are present. NEMA 4 Cabinet Coolers incorporate a low pressure relief valve for both the vortex tube and cabinet air exhaust. This valve closes and seals when the cooler is not operating to maintain the integrity of a NEMA 4 enclosure. NEMA 4X Cabinet Coolers offer the same protection as NEMA 4 but are constructed of stainless steel for food service and corrosive environments.