67,500 SqFt Plattsburgh Demonstration & Qualification Center (PDQC) to Open in Q4 2016 for Immediate Production and Training Operations
PLATTSBURGH, N.Y.--(BUSINESS WIRE)--Norsk Titanium AS, the world's pioneering supplier of aerospace-grade, additive manufactured, structural titanium components today announced that its subsidiary, Norsk Titanium US Inc., is opening a nearly 70,000 sqft production and training facility in Q4 2016. The PDQC will complement the U.S. company's new headquarters and manufacturing plant which is currently in the design and planning phase with a targeted completion date in 2017. The PDQC facility is funded by a Norsk Titanium investment designed to accelerate production and the creation of jobs and economic development in the Plattsburgh-North County region.

Norsk Titanium Funds New Plattsburgh Facility to Showcase Additive Manufacturing Line, Produce Aerospace Components
Tweet this
Details of the new Norsk Titanium additive manufacturing PDQC facility include:
Features Norsk Titanium's 'Ultra lean cell' (ULC), which demonstrates a production line that turns CAD files into finished aerospace parts in a space of approximately 120 feet
The ULC showcases the 3D printing, heat treatment, non-destructive testing and final machining of aerospace-grade titanium parts in a process time of less than 40 hours
PDQC will house approximately 50 skilled workers and office staff
Space and facilities for up to 10 MERKE IV™ RPD™ machines, the first of which has arrived from Norway and work is about to begin on its installation and commissioning
Each MERKE IV™ production machine weighs 11 metric tons and takes several weeks to assemble upon arrival at the PDQC
One MERKE IV™ can produce approximately 20 metric tons of aerospace-grade structural titanium components per year
The first titanium aerospace components to be produced by Norsk in Plattsburgh are planned for November 2016
"Launching the PDQC facility in 2016 represents a multi-million dollar investment by Norsk Titanium in the region and demonstrates our commitment to quickly commence operations and get a head-start on partnering with the people of Plattsburgh to generate jobs and economic development here," said Norsk Titanium President & Chief Executive Officer Warren M. Boley, Jr. "As the industrial scale RPD™ factory next door comes online during the next year or so, we will move the bulk of production there, while retaining this PDQC building as a qualification and training center as well as a showcase for our latest innovations and technology."
About Norsk Titanium AS
Norsk Titanium AS is the world's pioneering supplier of aerospace-grade, additive manufactured, structural titanium components. The company is distinguished in the aviation industry by its patented Rapid Plasma Deposition™ (RPD™) process that transforms titanium wire into complex components suitable for structural and safety-critical applications. The Norsk Titanium research and development team is committed to replacing today's inefficient manufacturing processes with a precision wire deposition technology embodying substantial savings for aerospace, defense, and commercial applications. www.norsktitanium.com
Featured Product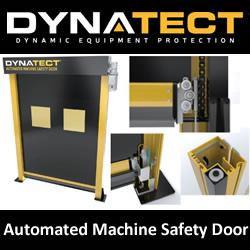 Dynatect's Gortite VF (Vertical Fabric) Automated Machine Safety Door is intended for automation and safe machine access to minimize cycle time and maximize production time. The automated roll-up door separates machines with hazardous operations from other processes, material handling equipment, and people. The Gortite VF Door contains typical machine/process generated hazards including light debris, fluid splatter/mist, and weld smoke/sparks/flash.